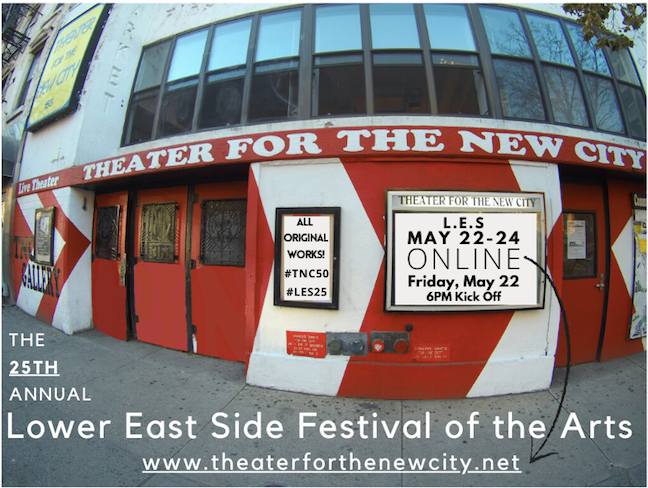 Who: Charles Busch, Phoebe Legere, Penny Arcade, Austin Pendleton, David Amram, F. Murray Abraham, William Electric Black, more
What: Live concert and summit (and many other events)
Where: Theater for the New City
When: Saturday, May 23, free, 8:00 (festival runs May 22-24)
Why: Since 1996, Theater for the New City's annual Lower East Side Festival of the Arts has been a harbinger of summer, three days of multidisciplinary performances taking place in and around the organization's East First St. home. But the twenty-fifth anniversary of the popular weekend event goes virtual because of the Covid-19 pandemic, but that doesn't mean it's slowed down in the least. From May 22 to 24, the festival, whose theme is "Renaissance: Arts Alive 25," will feature 250 participants providing music, dance, theater, discussion, and more, all for free. The centerpiece occurs on May 23 at 8:00 with "The Mt. Olympus of LES Love!," a concert with an amazing lineup consisting of Charles Busch, Phoebe Legere, Penny Arcade, Austin Pendleton, David Amram, F. Murray Abraham, and William Electric Black, followed by a summit that attempts to answer the question "Where do we go from here?"
The three-day celebration will feature such speakers as Nii Gaani Aki, Michael Musto, Brad Hoylman, Carlina Rivera, and Candice Burridge; theater excerpts with Barbara Kahn, Anne Lucas, Eve Packer, Greg Mullavey, the Drilling Company, Folksbiene National Yiddish Theater, Nuyorican Poets Café, and others; comedy from Reno, Stan Baker, Trav S.D., Wise Guise, Izzy Church, Epstein and Hassan, and Ana-Maria Bandean with Gemma Forbes; dance with Ashley Liang Dance Company, Constellation Moving Co., Dixon Place, H.T. Chen & Dancers, Wendy Osserman Dance Company, Thunderbird American Indian Dancers, and Zullo/RawMovement; music by Donald Arrington, Allesandra Belloni, Michael David Gordon and the Pocket Band, Art Lillard, and Yip Harburg Rainbow Troupe; cabaret with KT Sullivan, Marissa Mulder, Eric Yves Garcia, Aziza, and Peter Zachari; and poetry readings by Coni Koepfinger, Tsaurah Litzky, Lola Rodriguez, Bob Rosenthal, Lissa Moira, and Brianna Bartenieff; along with puppetry, film screenings, children's events, and visual art, all for free, although donations are gladly accepted.