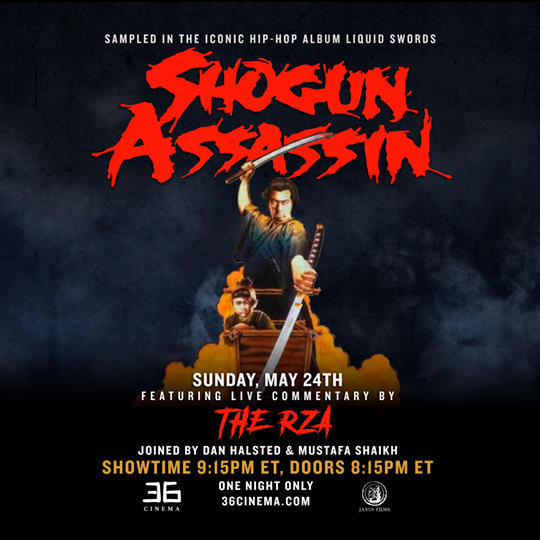 Who: RZA, Dan Halsted, Mustafa Shaikh
What: Live commentary during streaming of martial arts movie
Where: 36 Cinema
When: Sunday, May 24, $10, 9:15
Why: Rapper, writer, producer, actor, and director RZA has long displayed his admiration for martial arts movies. He is a cofounder of Wu-Tang Clan, which was named after the 1983 Hong Kong film Shaolin vs. Wu Tang, and he directed, cowrote, and starred in the 2012 movie The Man with the Iron Fists. In conjunction with 36 Chambers, the lifestyle company he cofounded in 2016 with Mustafa Shaikh — Wu-Tang Clan's debut album was called Enter the Wu-Tang (36 Chambers) — he has now started 36 Cinema, an online site that will stream martial arts classics with live commentary. They kicked things off earlier this month with Shaolin vs. Wu Tang, and on May 24 they will head to Japan for the 1980 jidaigeki favorite Shogun Assassin, a crossover film directed by Kenji Misumi and Robert Houston, inspired by Kazuo Koike and Goseki Kojima's long-running manga series Lone Wolf & Cub. The film features Tomisaburo Wakayama, the brother of producer and Zatoichi star Shintaro Katsu, as Ogami Ittō, a former executioner who has become a righteous defender of the common people and who lives by a very specific code; the film was sampled in Wu-Tang member GZA's 1995 album, Liquid Swords, which was produced by RZA. RZA will provide live commentary, joined by Shaikh, who will moderate viewer questions, and Hollywood Theatre head programmer Dan Halsted. Tickets are limited and cost ten dollars; you will receive a link an hour before showtime. "Meet the greatest team in the history of mass slaughter!" the film's tagline declares. We can't wait.