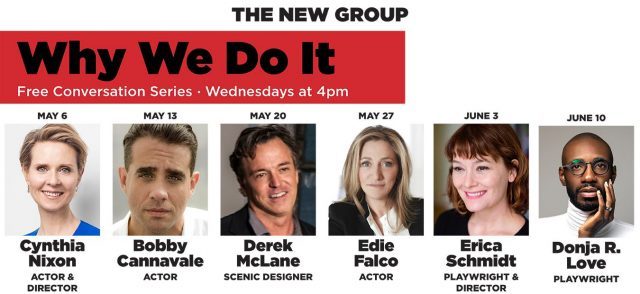 Who: Cynthia Nixon, Bobby Cannavale, Derek McLane, Edie Falco, Erica Schmidt, Donja R. Love, Scott Elliott
What: Weekly discussions about the draw and power of theater
Where: The New Group Facebook page
When: Wednesdays at 4:00, May 6 - June 10, free with advance RSVP, followed by limited Zoom Q&A for $100 donation
Why: Theater companies have been coming up with unique ways to stay in touch with their audiences now that all live, in-person staged productions have been postponed or canceled for the near future. The New Group is joining the online gatherings with "Why We Do It," a weekly conversation series hosted by company founding artistic director Scott Elliott. Every Wednesday at 4:00, Elliott will speak live online with a member of the New Group family, beginning May 6 with Cynthia Nixon, who has directed Steve and Rasheeda Speaking for the troupe. The impressive lineup continues May 13 with Bobby Cannavale (Hurlybury), May 20 with set designer extraordinaire and board chairman Derek McLane, May 27 with Edie Falco (The True), June 3 with playwright and director Erica Schmidt (Cyrano, All the Fine Boys), and June 10 with playwright Donja R. Love (one in two). All conversations are free, but advance registration is necessary. Each talk will be followed by a smaller "Drinks with" Zoom Q&A with the main guest, limited to twenty participants who make a $100 tax-deductible donation and will get a recipe for an original drink from mixologist Sammi Katz.