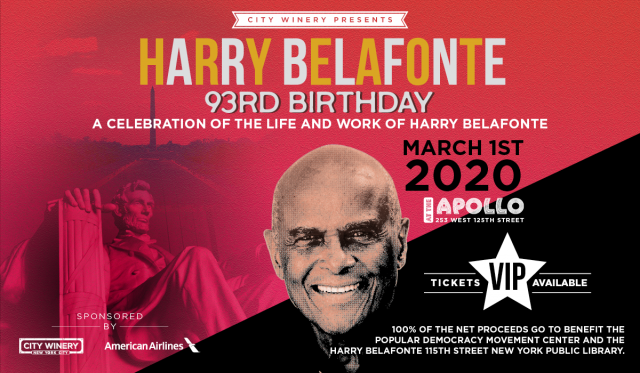 Apollo Theater
253 West 125th St.
Sunday, March 1, $58-$128, 7:00
citywinery.com
www.apollotheater.org
It should be a great night-o in Harlem when an all-star lineup of musicians gathers at the Apollo on March 1 to wish a happy ninety-third birthday to Harry Belafonte. Born Harold George Bellanfanti Jr. on March 1, 1927, in Harlem, the actor, singer, and activist will be feted by Maxwell, Common, Talib Kweli, Sheila E, Aloe Blacc, Alice Smith, John Forté, Gaël Faye, Mighty Sparrow, and the Resistance Revival Chorus, among others. Belafonte is best known for such films as Carmen Jones, Uptown Saturday Night, and BlacKkKlansman and such hit tunes as "Banana Boat Song" (in which he warbles, "Day-O"), "Matilda," and "Jump in the Line." All proceeds will go to the Popular Democracy Movement Center and the Harry Belafonte 115th St. Library. "The Popular Democracy Movement Center will give leaders, from the artist to the activist community, the forum to discuss, debate, and come to concrete actions that will direct national mobilization efforts," Belafonte said in a statement about the organization. General admission tickets for "City Winery Presents: A Celebration of the Life and Work of Harry Belafonte" run from $58 to $128, with VIP packages starting at $350 and going up to $5,000 for VIP seating plus admission to the day-of rehearsals, backstage access during the performance, an exclusive after-party with the artists, and a signed poster.