BROKEN BARRIERS (KHAVAH) (Charles E. Davenport, 1919)
Walter Reade Theater, Film at Lincoln Center
165 West 65th St. between Broadway & Amsterdam Aves.
Sunday, January 19, 12:30
Festival runs January 15-28
212-875-5050
www.filmlinc.org
thejewishmuseum.org
The New York Jewish Film Festival pulls out a special treat on January 19, the world premiere of the National Center for Jewish Film's restoration of the long-lost Broken Barriers, aka Khavah, the first cinematic adaptation of one of Sholem (Sholom) Aleichem's Tevye the Dairyman stories. The tale will be familiar to fans of Fiddler on the Roof, although there are significant narrative distinctions. In a small Ukraine village, the Jewish Khavah (Alice Hastings), daughter of Tobias the Milkman (Giacomo Masuroff) and Golde (Billie Wilson), falls for the Russian Orthodox Fedka (Alexander Tenenholtz), son of Ivan (Phil Sanford), the chief constable, and Parasha (Sonia Radin), after one of Fedka's friends (Raymond Friedgen) drunkenly assaults Khavah's younger sister Tzeitel (Hanna [Ganna Kehlmann] Kay). As Fedka and Khavah consider marriage, Tobias (an alternate pronunciation of Tevye) grows angrier and forbids their relationship. But when a devastating government decree is delivered to Ivan, everyone reconsiders their future.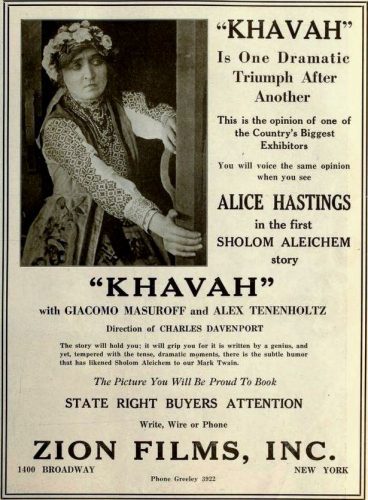 Billed as "a love drama of the Ukraine" in the opening credits, Broken Barriers features actors from Maurice Schwartz's Yiddish Art Theater on Irving Place (Schwartz would go on to famously play "Tevya" on stage and screen) and the Russian Opera Company; only Sanford had any cinematic experience, and it shows, as the acting is heavy-handed, especially by Hastings, who seems to be attempting to break barriers with her overemoting. ("Broken shall be the barriers that stand between me and happiness!" Khavah declares to her father.) But director Charles E. Davenport tells a tight little tale, limiting the amount of dialogue intertitles and including such poetic statements as "Conscience has a way of bringing us all to the realization that paternal efforts in our behalf are too lightly valued." Cinematographers Irving B. Ruby and Jack Young shot the film outdoors in the New Jersey wild and in a Manhattan studio, effectively capturing the strife of a poor Ukrainian village while using superimposition to evoke memories. At the heart of the story is whether religious beliefs trump family; the reaction of Fedka's parents and Khava's are very different, as is the ending of this rediscovered nugget. The screening will be accompanied by live music by Donald Sosin. A joint presentation of Film at Lincoln Center and the Jewish Museum, the festival continues through January 28 with such other works as Elise Otzenberger's My Polish Honeymoon, Rachel Rusinek and Eyal Ben Moshe's I Was Not Born a Mistake, and Dror Zahavi's closing night selection, Crescendo, about an attempt to establish an Israeli-Palestinian youth orchestra.