GOD TOLD ME TO (Larry Cohen, 1976)
BAMfilm, BAM Rose Cinemas
30 Lafayette Ave. between Ashland Pl. & St. Felix St.
Saturday, November 2, 4:15
Series runs October 31 - November 5
718-636-4100
www.bam.org

Watching the first half hour of Larry Cohen's 1976 thriller, God Told Me To, is extremely difficult, given the continuing spate of mass shootings in the United States and the battle over gun control. The film opens with a man (Sammy Williams) on top of a water tower in New York City, picking off random people down below with a .22 caliber rifle. Detective Peter Nicholas (Tony Lo Bianco) risks his life to go face-to-face with the soft-spoken killer, who says he did it because "God told me to." A religious Catholic suffering a crisis of faith, Nicholas gets the same response from a series of other mass murderers, including a cop played by Andy Kaufman, in his big screen debut, who lets loose during the St. Patrick's Day Parade. (The next scene takes place at the Feast of San Gennaro, which is held every September in Little Italy, but it's clear that six months have not elapsed, so we'll give Cohen, a native of Washington Heights, poetic license in this case.) As Lo Bianco gets deeper and deeper into the mystery that involves an odd, cultlike figure named Bernard Phillips (Richard Lynch), he also has to deal with his estranged wife, Martha (Sandy Dennis), and his younger girlfriend, Casey Forster (Deborah Raffin). As he gets closer to the truth, he is forced to look deep into his soul amid all the madness. God Told Me To is shot by cinematographer Paul Glickman guerrilla style primarily without city permits and using a handheld camera, keeping the viewer off balance; the choppy editing by Michael D. Corey, Arthur Mandelberg, and William J. Waters doesn't help smooth things out. The production values are quintessential low-budget mid-'70s, eliciting screams not of horror but of campy enjoyment among the middle-aged, who grew up watching these offbeat films at offbeat times in wood-paneled basements. Inspired by the Bible and one of the very first "aliens visited Earth!" books, Erich von Däniken's bestselling Chariots of the Gods, Cohen, a producer, director, and writer who made such other low-budget faves as Black Caesar, It's Alive, Q, The Stuff, and The Masters of Horror episode Pick Me Up, creates some intense scenes, including a hellish visit to a burning underground lair, as the twisting plot enters sci-fi territory involving a very special vagina.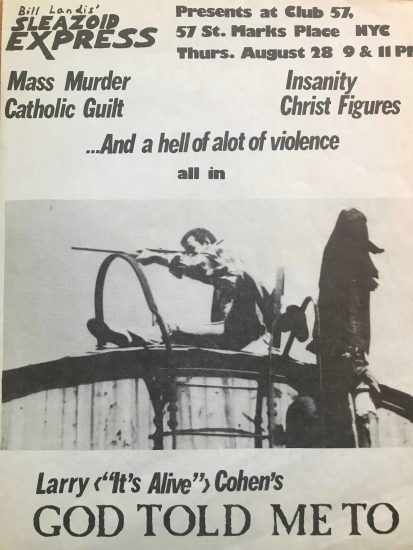 One of the undersung actors of the 1970s, Lo Bianco, who starred in such films as The Honeymoon Killers, The French Connection, The Seven-Ups, and Bloodbrothers and played Mayor Fiorella La Guardia in his traveling one-man show The Little Flower, gives one of his most nuanced performances in God Told Me To, whether desperately trying to stop killers or learning some hard facts from an elderly woman in a nursing home, portrayed by Oscar winner Sylvia Sidney. (The film also features old-time Broadway and Hollywood actor Sam Levene as publisher Everett Lukas.) Oscar-winning composer Bernard Herrmann was supposed to write the score but sadly passed away before he could begin, so Frank Cordell took over; the film is dedicated to Herrmann, who had written the score for It's Alive. Fans of 1960s and 1970s television series will have a field day recognizing familiar faces in small roles, character actors who appeared in multitudes of comedies and dramas; among the names you'll be Googling to see what else they've been in are Mason Adams, Richard Lynch, Harry Bellaver, and John Heffernan. God Told Me To, which was also released as Demon, is a gritty, dark film that resonates in a new way today, especially since all of the killers are white American males with apparent links to a supreme being. The film is screening November 2 as part of the BAM series "NYC Horror," which runs October 31 to November 5 and includes such other scary New York City-set faves as Michael Almereyda's Nadja, Michael Winner's The Sentinel, Mark Robson's The Seventh Victim, and Larry Fessenden's Habit.