MOUNTAINTOP (Bernard Shakey, 2019)
IFC Center, 323 Sixth Ave. at West Third St., 212-924-7771, 7:30
Landmark at 57 West, 657 West 57th St. at Twelfth Ave., 646-233-1615, 7:30
Nitehawk Cinema Williamsburg, 136 Metropolitan Ave., 9:45
One night only: Tuesday, October 22
mountaintopthemovie.com
Neil Young invites viewers behind the scenes of the making of his latest album, Colorado, in the documentary Mountaintop, playing in theaters one night only on October 22 in advance of the October 25 release of the record, the first he's done with his longtime band Crazy Horse since 2012's Psychedelic Pill. Directed by Young's filmmaking alter ego, Bernard Shakey, Mountaintop takes place over the course of eleven days in the Studio in the Clouds in the San Juan Mountains outside Telluride, about nine thousand feet above sea level, where four old white guys come together to make some grand rockin' music about love and climate change. "You might say I'm an old white guy / I'm an old white guy / You might say that," Young sings on "She Showed Me Love," about the attempted murder of Mother Nature. The seventy-three-year-old Canadian legend is joined by seventy-five-year-old bassist Billy Talbot and seventy-six-year-old drummer Ralph Molina — the two surviving original Crazy Horse members, who first played with Young on 1969's Everyone Knows This Is Nowhere — and sixty-eight-year-old guitar virtuoso Nils Lofgren, who was eighteen when he played guitar and piano on Young's 1970 solo record, After the Gold Rush. (Coincidentally, Lofgren's other boss, seventy-year-old Bruce Springsteen, is releasing his documentary about his latest album, Western Stars, on Friday.) Early on, the band says they are having an "oxygen party" to keep them going, passing around tanks like bongs. "It's old guys; young souls still alive in old souls and the music they make together," Young writes on his website about the film. It's hard not to laugh when you see the size of the type on the lyric sheets these old guys are using.
"Right now it's a piece of fucking gold. It's original fucking greatness," Young says of the big-sounding "Rainbow of Colors." After the calmer "House of Love," on which Young plays piano and harmonica and Lofgren tap-dances, he says, "It doesn't have to be good; just be great. You know, just feel good." Young lives up to his billing as the Godfather of Grunge on the punk-infused "Help Me Lose My Mind"; Lofgren refers to Young's singing on the track as "reckless narration with pitch," which gets a chuckle out of Young, who is serious and ornery most of the time, understandably unhappy with the monitors (ironically, mostly on the song "Shut It Down") and other details of the recording process, and he lets his longtime producer and engineer, John Hanlon, know it again and again. Hanlon, a coffee addict who is suffering from poison oak on his hand, has a meltdown at one point, screaming, "This is the most fucked-up studio I've ever fucking worked in in my life. . . I'm about ready to leave this fucking project, okay?" He demands that all cameras be removed from the studio and that the scene of him yelling and cursing not appear in the film, but. . . .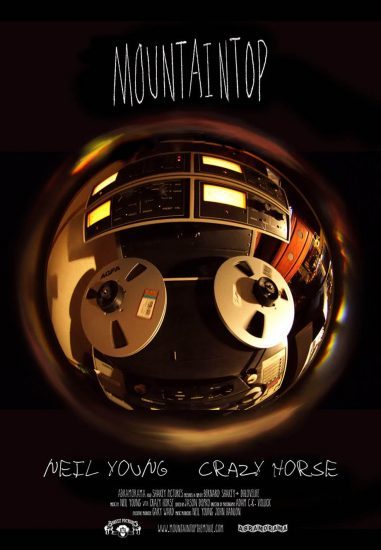 Young, who as Shakey has directed or codirected Rust Never Sleeps, The Monsanto Years, Human Highway, Journey through the Past, and Greendale, and cinematographer C. K. Vollick leave the studio to show time-lapse shots of the snowy mountains, bright stars, and rolling clouds outside, primarily on "Green Is Blue," a piano ballad about climate change. There are also snippets of Young performing at one of his solo acoustic concerts, where he surrounds himself with a circle of guitars. He employs split screens, a fish-eye lens (think the cover of Ragged Glory), a handheld camera, and one mounted on the floor to mix things up. Lofgren plays the pump organ and an accordion, Young plays the vibes and a glass harmonica, and the four men gather to sing lofty background harmonies. Amid all the technical problems — "I love singing in a wet sock," Young says about the sound — he and Crazy Horse prove they still have it after half a century, particularly when they turn it up on the majestic "Milky Way," which borrows generously from "Cowgirl in the Sands," and the hard-rocking "She Showed Me Love." "We're gonna do it / Just like we did back then," Lofgren, Molina, and Talbot sing on "I Do." Mountaintop is an irresistible fly-on-the-wall doc about the creative process, about collaboration and genius, about all the little things that can go wrong — and delightfully right — in the making of great art, in this case by a bunch of old white guys trying to save the planet, one song at a time.