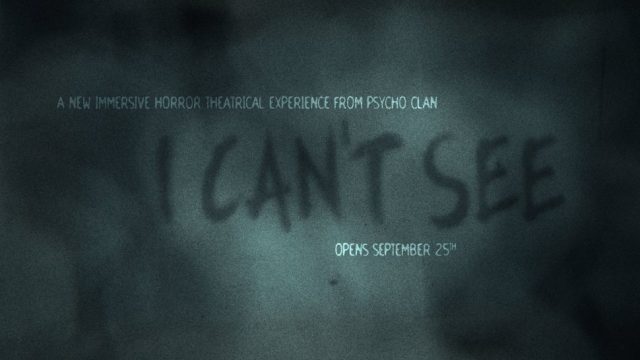 133 Greenwich St.
Tuesday - Sunday through November 3, $45-$50
nightmarenyc.com
I loved the grand finale of I Can't See, the latest immersive frightfest from Timothy Haskell and Paul Smithyman of Psycho Clan, the masterminds behind such other surreal events as Full Bunny Contact, Santastical, and This Is Real. Unfortunately, much of what came before left me uncomfortable and unimpressed. I Can't See is a forty-five-minute guided journey in complete darkness; after signing in, visitors are double-blindfolded and given headphones through which they receive instructions and follow the narrative, which is based on "The Toll-House," the classic 1909 British ghost story by W. W. Jacobs about a group of friends who decide to spend the night in a possibly haunted mansion. The setup is that you, identified as Sam, are taking part in an experiment by Optecs Corp about fear. "You've often mocked the poor decisions of others who are in situations of peril. Confident that you would do better," a voice says. "Now you have that chance. You will be in peril. You will make decisions. Decisions that will reflect your character. . . . It is better that you know that you are not a hero than to think you could be one if only you had the chance. That is also freeing. Free to be the coward you have been too afraid to admit you are."
But those instructions, which conclude with a demonic voice threatening, "You're going to die," are disingenuous. For most of the presentation, you are led around by hands and bodies that push, prod, jostle, and shift you as you make your way through various scenarios. You must follow the unseen path by holding on to "umbilicals," either rope, a banister, or another material, to help position you. I found myself regularly bumping into what I believed to be one of the other two people I was going through with, detracting from my experience while, I hoped, not negatively affecting theirs. These regular occurrences also took me out of the story, which I was fully prepared to invest myself in.
You might not be able to see, but you will get to use your senses of touch, smell, taste, and hearing, some of which is fun and some of which is not. There are also several mentions of a bright blue light, which made me think of the Tribute in Light that is projected every year on 9/11 where the Twin Towers once stood; I Can't See takes place in a space on Greenwich St. in the shadows of the former World Trade Center.
But then comes the exciting ending, in which you are by yourself. (I would have much preferred to go through the whole thing alone.) At last, you get to make your own decisions, and in my case, I survived. The two people who were with me, alas, suffered a far worse fate. Early on in I Can't See, after an escape artist has serious difficulties, the MC announces, "Terribly sorry, folks. That did not go as planned. We will work out the kinks and bring you another show tomorrow." The same might be said for I Can't See itself.