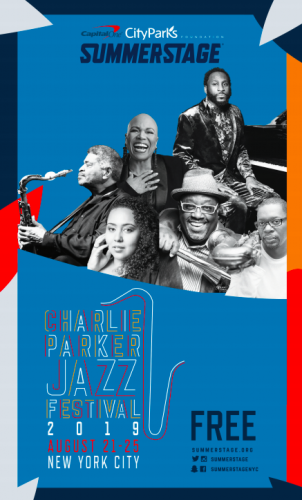 Multiple locations
August 21-25, free (some events require advance RSVP)
cityparksfoundation.org/charlieparker
City Parks Foundation's twenty-seventh annual Charlie Parker Jazz Festival, a free five-day SummerStage salute to the Kansas City–born saxophonist known as Bird and Yardbird, celebrates the centennial of the Harlem Renaissance this year with two big concerts and satellite events. The highlights are the shows on August 24 in Marcus Garvey Park and August 25 at Tompkins Square Park, but there are also panel discussions, film screenings, tributes to Clark Terry, Fred Hersch, and Art Blakey, and solo performances in intimate garden settings, some of which require advance RSVP. The festivities take place in Harlem, where Parker established himself as one of the greatest jazz saxophonists, and on the Lower East Side, where Parker lived from 1950-54, in a now-landmarked row house on Ave. B.
Wednesday, August 21
Native Soul Tribute to Clark Terry & Screening: Keep on Keepin' On (Alan Hicks, 2014), Hansborough Recreation Center Rooftop, advance RSVP required (charlierparker@cityparksfoundation.org), concert at 6:00, screening at 7:45
Jazz in the Garden: Michael Marcus, 6BC Botanical Garden, 5:30
Thursday, August 22
Unpacking Jazz and Gender Justice, with Terri Lynne Carrington and Aja Burrell Wood, the National Jazz Museum in Harlem, advance RSVP required (charlierparker@cityparksfoundation.org), 12:00
An Evening at Langston's: Celebrating the Centennial Anniversary of the Harlem Renaissance, with Candice Hoyes, the Langston Hughes House, advance RSVP required (events@itooarts.com), 7:00
Screening: The Ballad of Fred Hersch (Charlotte Lagarde & Carrie Lozano, 2016), followed by a Q&A with the directors, Maysles Documentary Center, advance RSVP required (charlierparker@cityparksfoundation.org), 7:00
Friday, August 23
Jazz in the Garden: René Mclean, Harlem Rose Garden, 5:30
Harlem 100: Mwenso and the Shakes, Brianna Thomas, Vuyo Sotashe, Fred Wesley, and Jazzmobile Presents: Winard Harper & Jeli Posse, Marcus Garvey Park, 7:00
Saturday, August 24
Dee Dee Bridgewater, Ravi Coltrane, Quiana Lynell, and Reclamation: Camille Thurman, Nikara Warren and Brandee Younger, Marcus Garvey Park, 3:00
Sunday, August 25
Carl Allen's Art Blakey Tribute, George Coleman Trio, Fred Hersch, and Lakecia Benjamin, Tompkins Square Park, 3:00
follow twi-ny
 navigate
listings