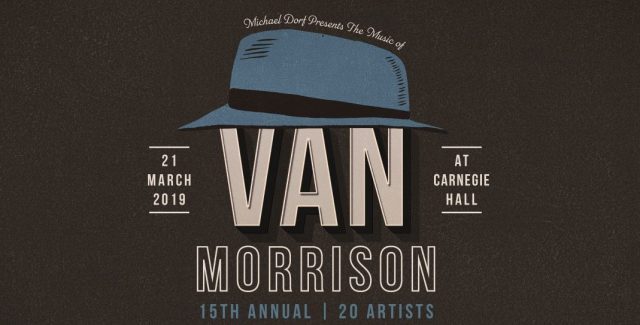 Who: Brian Fallon, Shawn Colvin, the Secret Sisters, Richard Marx, Marc Cohn, Bettye LaVette, Josh Ritter, Glen Hansard, Anderson East, the Resistance Revival Chorus, Lee Fields, David Johansen, Blind Boys of Alabama, Robert Earl Keen, William Elliott Whitmore, John Paul White, Darlene Love, Low Cut Connie, Valerie June, Patti Smith, and the house band of Tony Garnier, Steve Jordan, Smokey Hormel, and Leon Pendarvis, with more to be announced
What: Fundraising tribute to Van Morrison benefiting music programs for kids
Where: Carnegie Hall, Stern Auditorium / Perelman Stage, 57th St. & Seventh Ave., 212-247-7800
When: Thursday, March 21, $48-$175 (VIP packages $325-$10,000), 8:00
Why: Since 2006, City Winery has been staging "Music of" benefit tribute shows to legendary performers at Carnegie Hall, from David Bowie, Prince, Aretha Franklin, and Bruce Springsteen to Joni Mitchell, Bob Dylan, Jimmy Webb, and the Who. This year City Winery owner Michael Dorf turns to Irish troubadour Van Morrison, the seventy-three-year-old Belfast-born genius who has made such albums as Astral Weeks, Moondance, Into the Music, Beautiful Vision, The Healing Game, and Pay the Devil. Equally adept at jazz, blues, R&B, rock, and soul, Morrison started with Them in 1964 and has released forty records as a solo artist, including six since 2015. In addition to being one of the great songwriters of all time and boasting one of the most gorgeous voices in the business, Morrison is a master at reinterpreting the work of others, so it should be fascinating to see how a group of fellow musicians cover his tunes March 21 at Carnegie Hall; the impressive roster is listed above. There will also be a rehearsal show at City Winery the night before ($45-$65, 8:00). All proceeds will benefit Midori & Friends, the Center for Arts Education, Little Kids Rock, the Grammy Music Education Coaliton, Fixing Instruments for Kids in Schools, the Orchestra Now, Jazz House Kids, the D'Addario Foundation, the VH1 Save the Music Foundation, Sonic Arts for All, and the Church Street School for Music & Art.