DANGER: DIABOLIK (Mario Bava, 1968)
Nitehawk Cinema
136 Metropolitan Ave. between Berry St. & Wythe Ave.
Wednesday, January 23, 7:00
718-384-3980
nitehawkcinema.com
Nitehawk Cinema's "Live Sound Cinema" series continues January 23 with an inspired selection: Morricone Youth performing a live re-score to Mario Bava's Danger: Diabolik. The 1968 film was the last to be spoofed on Mystery Science Theater 3000 in 1999 — the year Morricone Youth was formed — prior to its 2017 reboot on Netflix, but don't let that fool you; it's no mere dated piece of schlock. The longtime underground fave has been steadily increasing its cred over the last decade, and deservedly so. The psychedelic crime thriller stars John Phillip Law as Diabolik, a criminal mastermind who pulls off seemingly impossible thefts right under the noses of the Minister of the Interior (Terry-Thomas), the intrepid Inspector Ginko (Michel Piccoli), and the frustrated chief of police (Claudio Gora), who eventually turns to mob boss Valmont (Adolfo Celi) for help. Wearing a body-hugging wetsuit of a costume, Diabolik is assisted by the love of his life, the gorgeous blonde Eva Kant (Marisa Mell), plotting their derring-do in an expansive underground lair. Based on the Italian comic book series by Angela and Luciana Giussani, the story rarely makes much sense, but it's a hoot to watch, a trippy mix of Batman, James Bond, Robin Hood, and Austin Powers.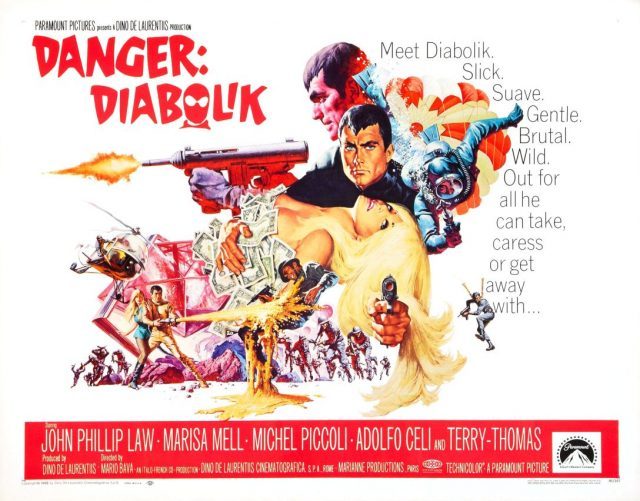 The film was produced by Dino De Laurentiis, who fired the initial director and main cast, which included first George Raft and then Gilbert Roland as Diabolik's archnemesis, and at one point considered Catherine Deneuve to play Eva, but ultimately giallo master Bava (Black Sunday, Planet of the Vampires) hired Mell. If some of the sets look familiar, it may be because De Laurentiis actually reused them, as well as actors, right after Diabolik finished shooting, going straight into production on another comic book movie, Roger Vadim's Barbarella. Diabolik also features what very well might be Ennio Morricone's grooviest soundtrack, which becomes a character unto itself; he might be most famous for composing the scores for myriad classic Westerns, but he also wrote music for Dario Argento, Elio Petri, and Pier Paolo Pasolini. The Nitehawk presentation is a great match of film and music; you can get a taste of what you're in for here, when Morricone Youth performed to Danger: Diabolik at Nitehawk in 2013. And Beastie Boys fans should check out their 1998 video for "Body Movin'," a campy tribute to the movie. "Live Sound Cinema" continues February 14 with Reel Orchestrette playing a live score to Buster Keaton's 1925 classic, Seven Chances.