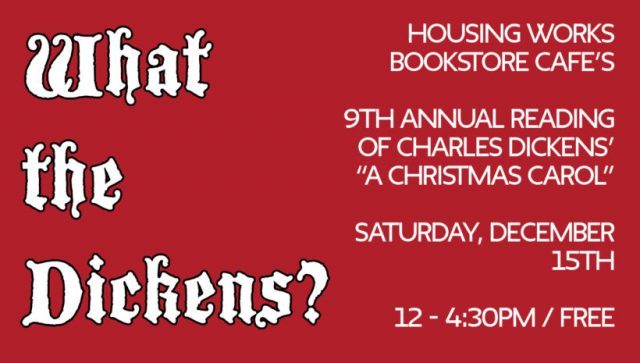 Who: The New York City Master Chorale, Megan Abbott, Scott Adsit, Mike Albo, Jami Attenberg, Sandra Bauleo, Tara Isabella Burton, Alexander Chee, Vinson Cunningham, Maria Dahvana Headley, Marcy Dermansky, Jo Firestone, Angela Flournoy, Alice Gregory, Jill Hennessy, Suki Kim, Maris Kreizman, Victor LaValle, Min Jin Lee, Lisa Lucas, Noreen Malone, Leon Neyfakh, Max Read, Rosie Schaap, Elissa Schappell, Rob Spillman, J. Courtney Sullivan, Sarah Weinman, and more
What: "What the Dickens?"
Where: Housing Works Bookstore Cafe, 126 Crosby St., 212-334-3324
When: Saturday, December 15, free with advance RSVP, 12 noon - 4:30 pm
Why: On December 15, Housing Works will present its ninth annual marathon reading of Charles Dickens's 1843 holiday classic, a ghost story about a poor family and a wealthy miser. "Marley was dead: to begin with. There is no doubt whatever about that," the novel begins. "The register of his burial was signed by the clergyman, the clerk, the undertaker, and the chief mourner. Scrooge signed it: and Scrooge's name was good upon 'Change, for anything he chose to put his hand to. Old Marley was as dead as a door-nail." The event kicks off at 12 noon with Christmas carols sung by the New York City Master Chorale, followed by dozens of performers reading passages from the book. Seasonal treats will be available for purchase, and everything in the store will be ten percent off. Admission is free and you can come and go as you please, but advance RSVP is recommended.