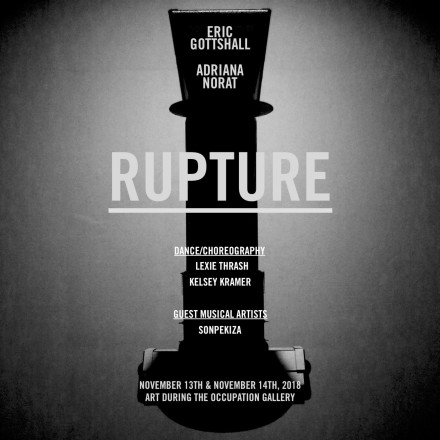 Art During the Occupation Gallery, Bushwick
119 Ingraham St., Buzzer 05
Ground Floor Main Gallery, Brooklyn Fire Proof Building
Tuesday, November 13, and Wednesday, November 14, $15, 7:30
www.art-during-the-occupation-gallery.com
Art During the Occupation Gallery in Bushwick is temporarily deinstalling its current exhibition, David B. Frye's "Return of the Mack," in order to present the two-night experiential art performance Rupture. The thirty-five-minute piece features dance and choreography by Lexie Thrash and Kelsey Kramer, featuring performance artist Eric Gottshall, sound artist Adriana Norat, and musical artist Sonpekiza, exploring ideas of fear, pessimism, displacement, and death through music, movement and wearable sculpture. Tickets are $15; the shows begin at 7:30 and will be followed by a reception with the artists.