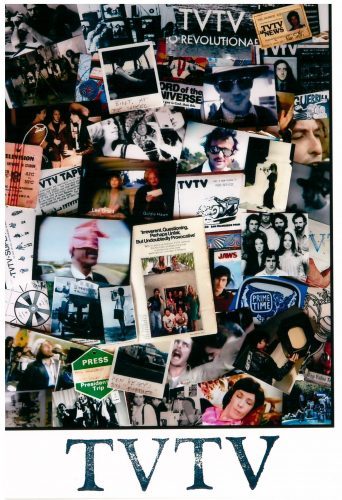 TVTV: VIDEO REVOLUTIONAIRES (Paul Goldsmith, 2018)
Cinema Village
22 East 12th St. between University Pl. & Fifth Ave.
Opens Friday, October 19
212-529-6799
www.cinemavillage.com

"How come we've never heard of these people?" director Paul Goldsmith says at the beginning of TVTV: Video Revolutionaries, an engaging documentary about a group of cutting-edge television makers that he was part of. In 1972, Top Value Television was formed by Michael Shamberg, Megan Williams, Allen Rucker, and Tom Weinberg, who believed that the boob tube was not depicting the real world they lived in. So they banded together and, using the small, handheld Sony Portapak VTR, were able to go places other outlets couldn't, offering an alternative to the network news (which was only CBS, NBC, and ABC) starting with the 1972 Democratic and Republican National Conventions in Miami. "We were the new journalists of television," Williams says proudly. A kind of mix of Vice, SCTV, the Yes Men, Sacha Baron Cohen, and SNL's "Weekend Update" — Bill Murray, John Belushi, Harold Ramis, and Christopher Guest all did stints with them — TVTV turned their cameras on the media itself, as well as on themselves, decades ahead of reality television and social media, filming everything. "Instead of a mass media we want to personalize media," Shamberg tells a Newsweek reporter about TVTV's approach to cable television. Goldsmith talks to fellow TVTV alum Hudson Marquez, Wendy Apple, Skip Blumberg, Eleanor Bingham, L. A. Johnson, Rucker, Shamberg, Williams, and Weinberg about what television meant to them from the time they were children and how they sought to change the status quo, with lofty dreams and no money, often living together in small apartments and doing it all themselves.
They found success with the convention films as well as docs on Gerald Ford, fifteen-year-old "Lord of the Universe" cult leader Prem Rawat, and the 1976 Super Bowl — they actually gave a camera to eventual MVP Lynn Swan to do with what he wanted, and he does not disappoint — but when they move from San Francisco to Los Angeles, a schism developed as they argued over whether they were an entertainment or news business, predicting what would happen in the industry shortly thereafter. But along the way, they put out some great guerrilla television, including watching the 1976 Oscar nominations with Steven Spielberg, hanging out with Hunter Thompson, Jann Wenner, and Thomas Wolfe at Rolling Stone, giving credentials to Vietnam War veteran and antiwar activist Ron Kovic to protest at the RNC, interviewing Abbie Hoffman when he was in hiding, making the Bob Dylan concert documentary Hard Rain, and going to the Academy Awards with Lee Grant. "The nice thing about TVTV is that I don't think anybody realized how much access they were giving to this bunch of lunatics," Johnson says. One of the reasons TVTV had faded into obscurity is because they made their shows on half-inch portable tape that required specific equipment in order to play it; thankfully, retired engineer John Godfrey had saved that original equipment, allowing Goldsmith to reintroduce this highly influential motley crew that was way ahead of its time.