Park Ave. Armory, Wade Thompson Drill Hall
643 Park Ave. at 67th St.
October 1-7, $45-$95
212-933-5812
www.armoryonpark.org
www.rosas.be/en
Belgian choreographer Anne de Keersmaeker has been making deeply thoughtful, intellectually exciting, stunningly beautiful work — "the art of dance as an act of writing movements in space and time," as it says in the mission statement of her company — for nearly four decades. On October 1, just a few weeks after its September 12 world premiere in Berlin, her eagerly anticipated adaptation of The Six Brandenburg Concertos opens at the Park Avenue Armory, home to several great explorations of Bach, from the 2014 St. Matthew Passion by Peter Sellars, with the Berliner Philharmoniker conducted by Sir Simon Rattle, to the 2015 Goldberg by pianist Igor Levit and visual artist Marina Abramovic. De Keersmaeker's piece is choreographed for sixteen members of all generations in her Rosas company, performed to all six concertos played live by noted baroque orchestra B'Rock, conducted by Amandine Beyer, who has worked with De Keekrmaeker previously. With costumes by An D'Huys and set and lighting design by Jan Versweyveld, Ivo van Hove's partner and regular collaborator, the two-hour piece promises to be a fascinating look at the interplay of pattern in music and movement, interpreted by masters.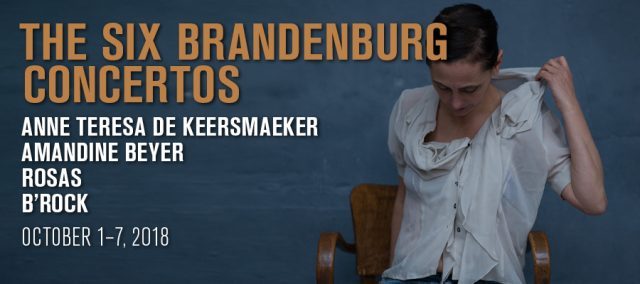 De Keersmaeker has never shied from setting her works to music that is both challenging and fiercely beloved; in 1980, her well-known Violin Phase was performed to the music of Steve Reich, and just a year ago in September, twi-ny was riveted by her work with Salva Sanchez on A Love Supreme at New York Live Arts, performed to John Coltrane's classic album. "Like no other, Bach's music carries within itself movement and dance, managing to combine the greatest abstraction with a concrete, physical, and, subsequently, even transcendental dimension," De Keersmaeker has said. In a recent interview with Jan Vandenhouwe, artistic director of Kunsthuis Opera Vlaanderen Royal Ballet Flanders, De Keersmaeker noted, "Just like Bach in composing, I have to impose rules on myself which over time I can break. . . . Measure by measure we try to compensate Bach's musical counterpoint with a choreographic counterpoint. It is certainly an enormous challenge to match the logic of the dance vocabulary with that of the music." It's a challenge that will be met in the Wade Thompson Drill Hall during this very special week of performances, by De Keersmaeker and her co-creators and dancers, Boštjan Antončič, Carlos Garbin, Frank Gizycki, Marie Goudot, Robin Haghi, Cynthia Loemij, Mark Lorimer, Michaël Pomero, Jason Respilieux, Igor Shyshko, Luka Švajda, Jakub Truszkowski, Thomas Vantuycom, Samantha van Wissen, Sandy Williams, and Sue Yeon Youn. De Keersmaeker and Beyer will take part in an artist talk with Performa founding director and chief curator RoseLee Goldberg on October 4 at 6:00; the event is sold out, but it will be streamed live on Facebook here.