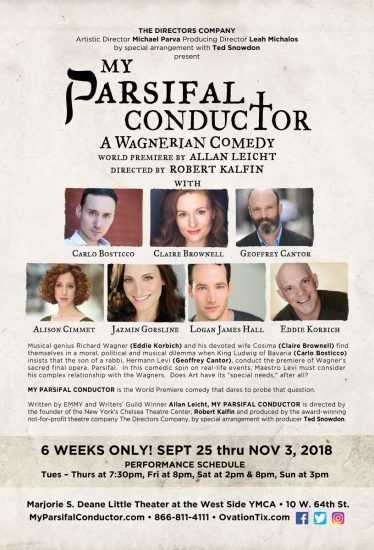 MY PARSIFAL CONDUCTOR: A WAGNERIAN COMEDY
Marjorie S. Deane Little Theater at the West Side YMCA
10 West 64th Street
Tuesday - Sunday, September 25 - November 3, $67
866-811-4111
myparsifalconductor.com
The debates over whether German composer Richard Wagner was anti-Semitic have raged for more than a century, particularly since Adolf Hitler and the Nazis incorporated his music into their march for power. (Wagner died in 1883 at the age of sixty-nine.) One of his works that generates complaints of anti-Semitism is his final opera, 1880's Parsifal, about the search for the Holy Grail. Writer, director, and producer Allan Leicht, who won a Daytime Emmy for Outstanding Writing for Ryan's Hope and was nominated for a Primetime Emmy for the TV movie Adam, explores the topic in My Parsifal Conductor: A Wagnerian Comedy, which was inspired by the real-life situation in which King Ludwig II of Bavaria commanded that German Jew Hermann Levi, the son of a rabbi, will conduct the inaugural performance of Parsifal at the Bayreuth Festival in 1882. The cast features Eddie Korbich as Wagner, Claire Brownwell as Cosima, his wife, Geoffrey Cantor as Levi, Carlo Bosticco as King Ludwig II, Logan James Hall as Friedrich Nietzsche, Alison Cimmet as Dora, and Jazmin Gorsline as Carrie and Sophie. My Parsifal Conductor is directed by Robert Kalfin (Happy End, Yentl) and produced by Ted Snowdon (The Elephant Man, My Name Is Asher Lev).
TICKET GIVEAWAY: My Parsifal Conductor runs September 25 through November 3 (with an October 11 opening) at the Marjorie S. Deane Little Theater at the West Side YMCA, and twi-ny has two pairs of tickets to give away for free. Just send your name, daytime phone number, and favorite play involving opera to contest@twi-ny.com by Friday, September 28, at 3:00 pm to be eligible. All entrants must be twenty-one years of age or older; two winners will be selected at random.