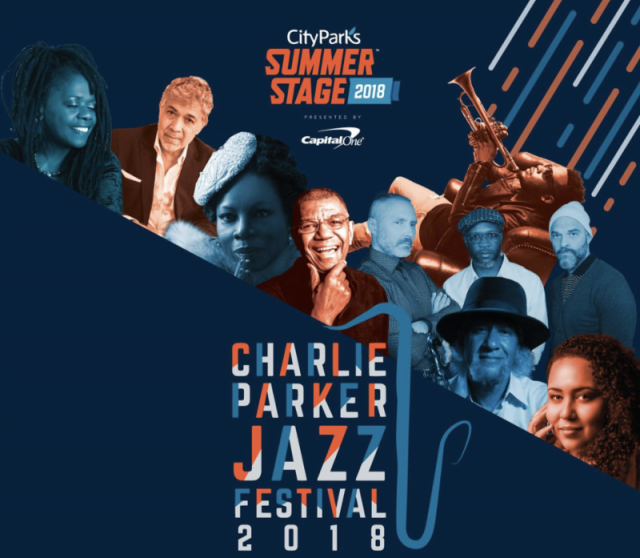 Multiple locations
August 22-28, free (some events require advance RSVP)
cityparksfoundation.org/charlieparker
City Parks Foundation's twenty-sixth annual Charlie Parker Jazz Festival, a five-day SummerStage salute to the Kansas City–born saxophonist known as Bird and Yardbird, kicks off August 22 at 2:00 with a Family Jazz Party with Adam O'Farrill and Immanuel Wilkins at the National Jazz Museum in Harlem, followed at 7:00 by "Paper Man @ 50," a conversation with trumpeter Charles Tolliver and saxophonist Gary Bartz on the occasion of the golden anniversary of the recording of Tolliver's debut album. On August 23 at 5:30, the School of Jazz and Contemporary Music at the New School will host a "Paul Motian Tribute" featuring excerpts from Michael Patrick Kelly's upcoming documentary Motian in Motion, a Q&A moderated by guitarist Steve Cardenas, and a live set by Cardenas, Frank Kimbrough, and Ben Allison. Also at 5:30, the Jazz Foundation of America and Ariana's List present "Jazz in the Garden: George Braith," with the saxophonist playing in the 6BC Botanical Garden. And at 7:30, the Maysles Documentary Center will present a free screening of Jake Meginsky's Milford Graves Full Mantis, with Meginsky and Graves, who turns seventy-seven today, participating in a Q&A after the film. On August 24 at 5:30, for "Jazz in the Garden: Antoine Rooney," the tenor and soprano saxophonist will perform in the Harlem Rose Garden.
The festival hits the next level on Friday night, when Tolliver will celebrate the fiftieth anniversary of Paper Man in Marcus Garvey Park with special guests Bartz, Jack DeJohnette, Buster Williams, and a surprise; vocalist Brianna Thomas gets things going with a Jazzmobile show at 7:00. On Saturday at 3:00, pianist Monty Alexander and the Harlem Kingston Express, vocalist Catherine Russell, pianist Matthew Whitaker and his trio, and trumpeter Keyon Harrold will take the stage in Marcus Garvey Park. And the partying reaches its crescendo on Sunday afternoon at 3:00 in Tompkins Square Park with the Gary Bartz Quartet, the Bad Plus, pianist Amina Claudine Myers, and the newly commissioned work "UNHEARD," a Bird tribute with Wilkins, Joel Ross, and O'Farrill.