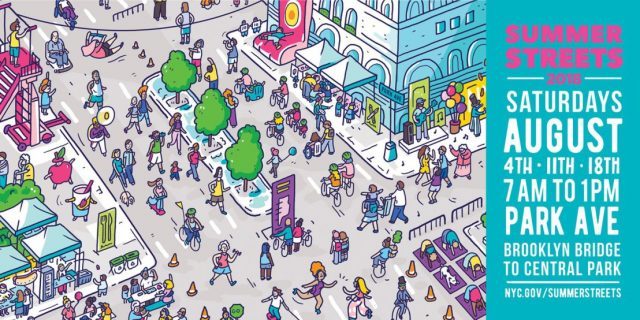 Park Ave. & 72nd St. to Foley Square
Saturday, August 4, 11, 18, free, 7:00 am – 1:00 pm
www.nyc.gov
Now in its ninth year, Summer Streets takes place the first three Saturday mornings in August, as Park Ave. will be closed to vehicular traffic from 72nd St. to Foley Square and the Brooklyn Bridge from 7:00 am to 1:00 pm, encouraging people to walk, run, jog, blade, skate, slide, and bike down the famous thoroughfare, getting exercise and enjoying the great outdoors without car exhaust, speeding taxis, and slow-moving buses. There are five rest stops along the route (Uptown at 52nd St., Midtown at 25th, Astor Pl. at Lafayette St., SoHo at Spring & Lafayette, and Foley Square at Duane & Centre), where people can relax and enjoy food and drink, live performances, fitness classes, site-specific art installations, dog walks, bicycle workshops, and other activities, all of which are free. Below are some of the highlights.
Foley Square Rest Stop
Zipline, Mobile Tea Garden, juggling and hula lessons, streets games, DOT Hand-Cycle Activation, adaptive basketball, group runs, bike programs, DEP Water on the Go, and pop-up performances by the Bryant Park Jugglers, the Hoop Movement, HONK NYC, Fogo Azul, and Batingua
SoHo Rest Stop
Paws and Play Dog Park, dog park and agility course, fitness stage, pop-up yoga, Zumba with Wilson Gutierrez (August 4), Sherrod Wiliamson (August 11) and Chris. Y (August 18), and WRKNYC FitFam BootCamp with Coach Will (Will Jackson), Coach Cook (Sarah Diiorio), and Coach Bakes (Amanda Baker), and Cardio Kick with Delida Torres on August 11, Hip Hop with Corinne Tate on August 11, and Dance HIIT with Bryan Davis on August 18
Astor Place Rest Stop
Clif Kids Park custom pump track, BBF Bouldering Wall & Obstacle Course, I LOVE NY Mobile Visitor's Center, Gazillion Bubble Show's Bubble Garden, DEP Water on the Go
Midtown Rest Stop
Food & Beverage Sampling Zone (with free samples from Obrigado, Hippeas, Lifeway, Nuun, Kevita, Krave Jerky, SkinnyPop, Simply Beverages, and Purity Organics), bike programming, Go! Sports Inline Skate Rentals and Clinics, the Five Borough Bicycle Club Bike Repair, DEP Water on the Go, NYC Department of Sanitation (with reusable bag giveaway), Health and Fitness Zone, cooking demonstrations, interactive "Smell Synth" exhibit with Museum of Food and Drink, NYCDOT Mobility Management Program, and live performances by Eliano Braz, Ensemble Connect: Lizzie Burns and Julia Yang, Hye-Jeung Kang, Ashley Wasser, YAZBAND, the Good Morning Nags, Inti and the Moon, and the Blue Dahlia on August 4, Gabriel Aldort, Jade Choi, TM Street Band, Sulene, Moondrunk, Baby Soda Jazz Band, Backtrack Vocals, and Drumadics Beat-N-Brass Band on August 11, and marie-claire and the boys, Ensemble Connect: Rosie Gallagher and Andre Gonzalez, Joanna Teters, Skye Steele, JHEVERE, Karikatura Street Band, Coexist Music Group, and John James Band on August 18
Uptown Rest Stop
Kid Fitness Zone, DOT Safety Zone, bike programming, DEP Water on the Go, arts & cultural workshops (Urban Studio Unbound, HYPOTHEkids, Manhattan Borough Historian, Noguchi Museum, Society of Illustrators, Museum of Chinese in America, Art Students League, Publicolor, New York Botanical Garden, CultureNow, DCLA Materials for the Arts, El Museo del Barrio, the Lower East Side Tenement Museum, Brooklyn Children's Museum, and Museum of Arts & Design), Taoist Tai Chi Society, Municipal Art Society historical walking tours (Jean Arrington: "City Beautiful and Benevolent," August 4; Deborah Zelcer, Decked Out on Park Avenue: "Art Déco Buildings and New York Glamour," August 11; Alan M. Engler, MD, Mansions, Money & Scandal: "Gilded Age Splendor on the Upper East Side," August 18), and performances by Gibney Dance, Dana & the Petite Punks, Ben Rosenblum Trio, Dream Street Theatre Company, Music with a Message, Izaak Mills' Contemporary Adults, and Department of Youth and Community Development on August 4, Rite of Spring Duo, Bumblebee Jamboree, NYC Kids Project, the Poor Cousins, Niall O'Leary School of Irish Dance, Dayboat Brass Quartet, and Ori Manea Tahitian Dance School on August 11, and New York Violinist, Triad Brass, Robert Anderson Band, the Afro-Latineers, Stiletta, Dance Entropy, and Dancing Classrooms on August 18
follow twi-ny
 navigate
listings