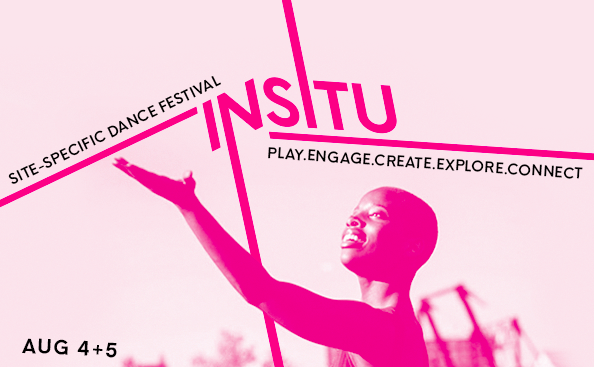 Hunters Point South Park, Gantry Plaza State Park, Queensbridge Park, Socrates Sculpture Park
August 4-5, free, 1:00 - 8:00
www.insitudancefestival.com
Need an excuse to stroll through some beautiful, less-frequented parks this weekend? Then check out the second annual INSITU. INSITU takes the concept of site-specific dance to a new level, involving nearly two dozen companies and individuals performing or leading workshops over the course of seven hours in four parks along the Queens waterfront. The schedule allows for fans to be able to see every piece once as they make their way through Long Island City. Produced in partnership with Jacob A. Riis Neighborhood Settlement, INSITU features a wide-ranging lineup (with the name of the piece they will be performing in parentheses): César Brodermann & Sebastian Abarbanell (As We Get Weaker Together), Alice Gosti (Bodies of Water), Quilan 'Cue' Arnold (The Third Rail), N E 1 4 Dance (Constricted Not Constructed), and workshop with Melissa Riker Kinesis Project (Breathing with Strangers) in Hunter's Point South Park; House of Ninja (Peer/Pier), Renegade Performance Group (Landing), Donofrio Dance Company (Other), Sarah Chien (Pathway), Sarah Elgart | Arrogant Elbow (Shape of Memory), and workshop with Cecilia Fontanesi of Parcon NYC (Space Pillars) in Gantry Plaza State Park; Kate Harpootlian and artists (Play), A Lady in the House Co. (R a l l y), Douglas Dunn + Dancers (Portal), AnA Collaborations (Seeking Love), and workshop with Christopher Núñez (Move Your Number) in Queensbridge Park; and Sophie Maguire & Emma Wiseman (Mimosa Pudica), Javier Padilla & the Movement Playground (Full, Flock, Folk, Together), Babacar Top/TopdanceCompany (Anger of Bulimia), Ladies of Hip-Hop Festival (Gentrification of My Beat), Fleuve | Espace danse (The Breath of Dawn), and workshop with JoAnna Mendl Shaw of the Equus Projects (Hands on, Eyes on, Bodies Moving) in Socrates Sculpture Park.
Each piece runs less than fifteen minutes during four sequences that begin at 1:00, 3:00, 5:00, and 7:00. There will also be a community dance segment at the end of the first three sequences. As Brodermann and Abarbanell explain about their piece, "It was my own body that needed to survive / It was my own body that needed to be caught / It was my own body that learned how to fly / It was my own body that decided to try"; on Saturday and Sunday, you can see bodies doing all kinds of things during this ultracool festival celebrating movement and nature.