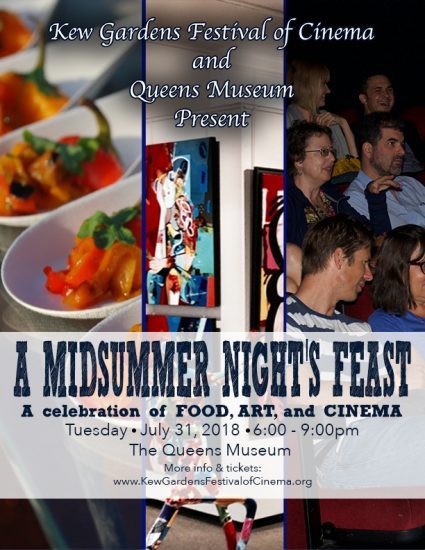 Queens Museum
Flushing Meadows Corona Park
Tuesday, July 31, $15, 6:00 - 9:00
Festival runs August 3-12
www.eventbrite.com
www.kewgardensfestivalofcinema.com
The second annual Kew Gardens Festival of Cinema and the Queens Museum have teamed up for a kickoff event on July 31, prior to the festival's opening night on August 3. "A Midsummer Night's Feast: A Celebration of Food, Art, and Cinema" features more than twenty food booths and free admission to the museum, which currently has on display "Mel Chin: All Over the Place" in addition to the long-term Panorama of the City of New York and others. The food vendors, who will be selling dishes and cocktails from $5 to $10, consist of Mums Kitchen, Scoops N Cahoots, Cristians Rice Pudding, Memphis Seoul BBQ, Forward Roots, Mama Lam's, Panda Eats World, Queens Bully, Bliss Street Creamery, Coffeed, Bagelites, Queens Curry Kitchen, Samosa NYC, Hold My Knots, Silk Cakes, Casa del Chef, Perci's Jamaican Jerk, Roast N Co, Rib in a Cup, the Guac Spot, and Arepa Lady.
There will also be trailers from many of the films participating in the festival, meet-and-greets with directors, and a red-carpet photo spot. The Kew Gardens Festival of Cinema runs August 3-12 at the museum and the United Artists Midway on Queens Boulevard; among the special events are a midweek red carpet and after-party with the August 8 screening of A Violent Man and The Invaders, Midnight Madness and Grindouse Horror on August 10, a closing night red carpet and after-party with the August 11 screening of Virginia Minnesota and La Rose et la Pivoine (The Rose and the Peony), and the awards dinner and gala August 13 at Terrace on the Park.