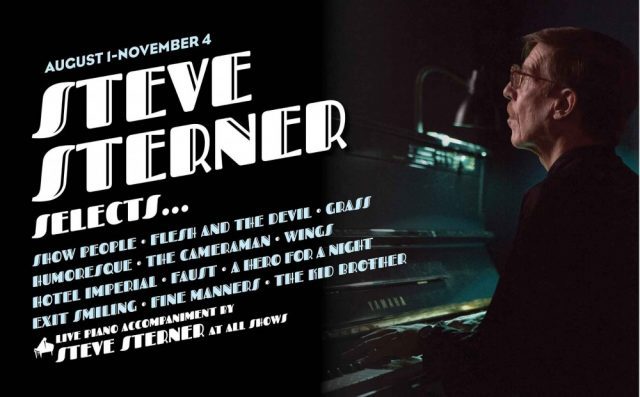 Film Forum
209 West Houston St.
August 1 - November 4
212-727-8110
filmforum.org
For thirty-five years, Bronx-raised actor, singer, conductor, composer, gambler, puzzlemeister, and arranger Steve Sterner has been playing piano accompaniment to silent films at such venues as the Brooklyn Academy of Music, the old Thalia, and Film Forum, where he's been the resident silent film composer/accompanist since 1987. Film Forum is honoring the self-described "bad improviser" with a series of his own, "Steve Sterner Selects . . . ," running through November 4 and beginning August 1, when the institution reopens after a major renovation and the addition of a fourth theater. The festival consists of a dozen silent works chosen by the longtime Upper West Sider, who's lived in the same rent-stabilized apartment on West Seventy-First Street since 1979. Among the films chosen by the sixty-seven-year-old Sterner, who will, of course, play piano at every screening — preceded by his traditional cough drop — are King Vidor's Show People, which will be introduced by FF programmer extraordinaire Bruce Goldstein; Clarence Brown's Flesh and the Devil, the first silent movie Sterner played music for; William Wellman's Wings, winner of the first Best Picture Oscar; Edward Sedgwick's The Cameraman, in which Buster Keaton is let loose on an unsuspecting New York City; and Sam Taylor's lesser-known Exit Smiling. Sterner, who was also the subject of Paola Ochoa's short 2014 documentary, The Accompanist, recently answered questions via email for twi-ny about his life and career.
twi-ny: When did you first realize you wanted to play piano accompaniment to silent films? Was there a eureka moment?
steve sterner: I never aspired to accompany silent films. I was thrown into it by Wayne Daigrepont, a cartoon collector on the staff at the Thalia theater.
twi-ny: What do you see as the primary responsibility of playing piano accompaniment?
ss: Be faithful to the film and enhance it as best you can.
twi-ny: In the past, you have said that your playing should not be the focus, that the audience shouldn't even notice you and instead should get lost in the film while you play. What does it feel like to now be the center of attention, putting together a series at Film Forum with your name in the title?
ss: The film is the star — I'm a supporting player. However, it's always nice to be recognized when I'm not playing the piano.
twi-ny: On October 16, you will be sitting down with FF programming genius Bruce Goldstein for a discussion and Q&A in conjunction with a screening of William James Craft's A Hero for a Night. What is it like working with Bruce?
ss: Working with Bruce has always been a joy. I think he's one of the last great impresarios.
twi-ny: You've been doing this professionally since the early 1980s. Over those decades, has the audience changed at all? For example, are they any more or less attentive in this social-media-saturated age? And is the audience itself older, or are the younger generations showing up as well?
ss: I think the audience has gotten younger over the years, but other than that I haven't paid much attention to the makeup of the audience.
twi-ny: For many years, you and Donald Sosin have been the go-to guys when it comes to this art form. Are you friends? Is there a competition between you for specific films or gigs?
ss: I wish I could play piano as well as Donald Sosin. I met him in the '90s and have heard him play many times since. If there's competition between us I'm unaware of it, but I'd never feel slighted to lose a job to him. He's one of the best.
twi-ny: In addition to Film Forum, you've played numerous other New York City venues. Do you have a favorite (other than FF)?
ss: I enjoyed playing at the Thalia in the '80s.
twi-ny: Is there a specific silent film that you would love to play piano with but for some reason, either rights or the quality or existence of an acceptable print, you've been unable to?
ss: Any lost film that's been unearthed.
twi-ny: Do you have a particular favorite silent film?
ss: The Student Prince in Old Heidelberg.
twi-ny: Favorite silent film director?
ss: Lubitsch, Hitchcock, Seastrom, Murnau, and others.
twi-ny: Favorite silent film composer?
ss: Charles Hoffman and William Perry.
twi-ny: Favorite sound film composer?
ss: Max Steiner.
twi-ny: Favorite silent film star?
ss: Buster Keaton, Harold Lloyd, Lon Chaney, Clara Bow, and Douglas Fairbanks.
twi-ny: When you're not accompanying silent films, what do you like to do for fun in New York City?
ss: I watch baseball and '50s television shows on YouTube.