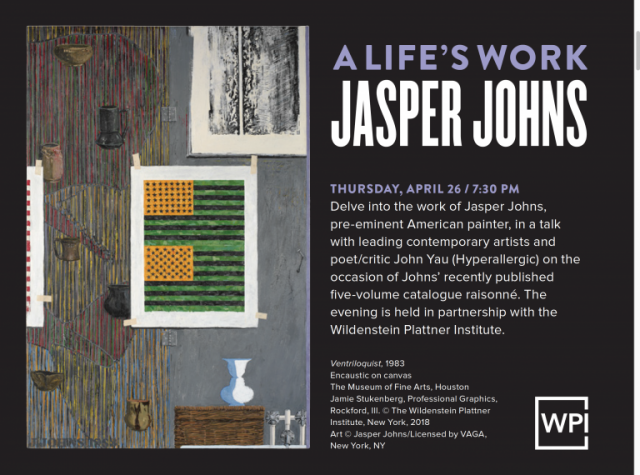 Who: Caitlin Sweeney, John Yau, William Villalongo, Martha Wilson
What: Roundtable on Jasper Johns's career and preserving the work of living artists
Where: Brooklyn Public Library, Central Branch, 10 Grand Army Plaza, 718-230-2100
When: Thursday, April 26, free but advance RSVP recommended, 7:30
Why: In conjunction with the publication of the five-volume Jasper Johns Catalogue Raisonné of Painting and Sculpture (Wildenstein Plattner Institute), the Central Branch of the Brooklyn Public Library is hosting a free panel on April 26 with senior researcher and WPI director of digital publications Caitlin Sweeney, art critic and curator John Yau, painter and collagist William Villalongo, and performance artist and Franklin Furnace founder Martha Wilson. They will discuss the career of Georgia-born artist Jasper Johns, who will be turning eighty-eight on May 15, as well as the importance of preserving the work of a living artist. A catalog will enter the collection of the library as part of the event.