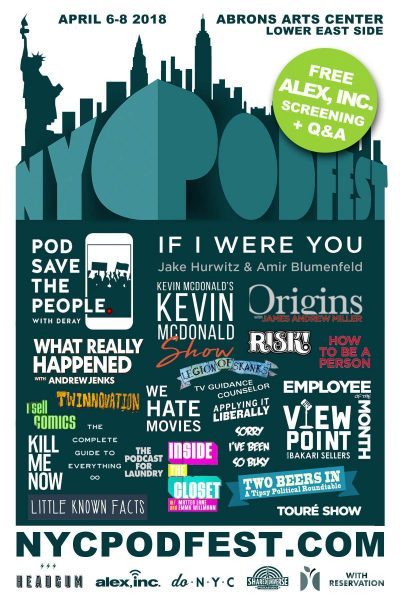 Abrons Arts Center
466 Grand St. at Pitt St.
April 6-8, $10-$35
212-352-3101
www.nycpodfest.com
www.abronsartscenter.org
The sixth annual NYC PodFest takes place this weekend at Abrons Arts Center, with two dozen podcasts recording live in front of an audience, adding a visual element to what is usually just an aural experience. Among the special guests are Michael Ian Black, Judy Gold, Jordan Klepper, Wheatus, Kevin McDonald, Lucy Wainwright Roche, Touré, Matthew Broderick, Martha Plimpton, and Zach Braff. Below are only some of the highlights.
Friday, April 6
Pod Save the People, hosted by DeRay Mckesson, with guest Touré, $30-$40, 7:00
If I Were You with Jake Hurwitz & Amir Blumenfeld, $25-$45, 9:15
Saturday, April 7
Kill Me Now with Judy Gold, $10, 2:45
Employee of the Month, hosted by Catie Lazarus, with guests Masha Gessen, Martha Plimpton, and Anthony Atamanuik and musical guest Lucy Wainwright Roche and the Employee of the Month house band, $20, 3:00
Kevin McDonald's Kevin McDonald Show, with guests Michael Ian Black and Jordan Klepper and musical guest Wheatus, $15-$25, 9:15
Sunday, April 8
A Discussion with Zach Braff and Gimlet Founder Alex Blumberg, plus an advance screening of Alex, Inc., free with advance RSVP, 7:15
Touré Show, hosted by Touré, $15, 1:00
Little Known Facts, hosted by Ilana Levine, with guest Matthew Broderick, $10, 6:30