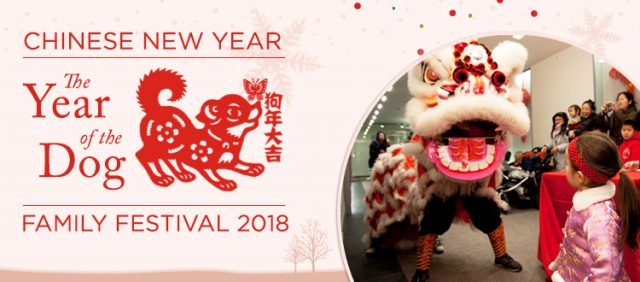 Sara D. Roosevelt Park and other locations
East Houston St. between Forsythe & Chrystie Sts.
February 16-25
www.betterchinatown.com
www.explorechinatown.com
Gōng xǐ fā cái! New York City is ready to celebrate the Year of the Dog, or, more specifically, the Earth Dog, this month with special events all over town. People born in the Year of the Dog are honest, loyal, reliable, and responsible. Below are some of the highlights happening here in the five boroughs during the next several weeks of Chinese New Year.
Friday, February 16
Lunar New Year for Kids, with storytelling, crafts, snacks, games, and a Chinese acrobat, China Institute, 40 Rector St., 10:00 am – 4:00 pm
New Year's Day Firecracker Ceremony & Cultural Festival, Sara D. Roosevelt Park, Grand Street at Chrystie St., free, 11:00 am – 3:30 pm
Saturday, February 17
Lunar New Year Family Festival, with "The Mane Event: A Lion Dance Performance" by the Nai-Ni Chen Dance Company, "Sounds of the New Year" featuring the pipa and the gong, "Whirling, Twirling Ribbons: A Ribbon Dance Workshop" with Mei-Yin Ng, folk arts, food sampling, storytelling, a gallery hunt, lion mask and paper dog workshops, and more, Museum of Chinese in America, 215 Centre St., $12, 11:00 am – 4:00 pm
Lunar New Year Celebration, with family-friendly arts and crafts, a lion dance, a paper-cutting workshop, zodiac face painting (for an additional fee), a taekwondo demonstration, a plant sale, and live performances, Queens Botanical Garden, 43-50 Main St., free, 12 noon - 4:00
Lunar New Year, with a lion dance, Shaolin Kung Fu demonstrations, Chinese drumming, Chinese acrobatics, traditional Chinese music and dance, and master of ceremonies Cary Chow, New York Chinese Cultural Center at Arts Brookfield, 230 Vesey St., free, 2:00 – 3:15
Tuesday, February 20
Lunar New Year Concert, with the New York Philharmonic performing works by Li Huanzhi, Andy Akiho, Beethoven, and more, with Ping-Pong players Ariel Hsing and Michael Landers, Elizabeth Zeltser on violin, David Cossin on percussion, Serena Wang on piano, Alex Rosen on bass, sopranos Heather Phillips and Vanessa Vasquez, mezzo-soprano Sarah Mesko, tenors Marco Cammarota and Chad Johnson, and the Farmers' Chorus of the Yunnan Province, conducted by Long Yu, David Geffen Hall, 10 Lincoln Center Plaza, $35-$110, 7:30
Saturday, February 24
Lunar New Year Celebration 4716: Year of the Dog, with costume contest, riddles, martial arts, live music and dance, arts and crafts, games, and more, P.S.310, 942 62nd St., free, 11:00 am - 2:30
Lunar New Year Festival: Year of the Dog, featuring a Japanese shakuhachi soloist, Balinese music by Gamelan Dharma Swara, the Met Quartet in Residence: Aizuri Quartet playing "Japan Across the World," fan painting, "Put Your Stamp on It" with Kam Mak, "Double Dog Dare You!," a fire-breathing dragon mask, good luck puzzles, Wayang: Indonesian shadow puppet making, zodiac puppets, a hand drum and fan dance workshop, Wu-Wo tea ceremony and bubble tea gatherings, a hand-pulled noodle demonstration, a "What Your Nose Knows" scent tour, "My Chinatown" with Kam Mak, and more, Metropolitan Museum of Art, 1000 Fifth Ave. at 82nd St., free with suggested museum admission, 11:00 am – 5:00 pm
Sunday, February 25
Chinese New Year Family Festival, with workshops, dumpling making, storytelling, lion dance, live music, a puppet show, and more, workshops $5-$20, party and performance $10-$20, China Institute, 40 Rector St., 11:00 am – 3:00 pm
Nineteenth annual New York City Lunar New Year Parade & Festival, with cultural booths in the park and a parade with floats, antique cars, live performances, and much more from China, Korea, Japan, Vietnam, Taiwan, Malaysia, Singapore, and other nations, Chinatown, Sara D. Roosevelt Park, and Columbus Park, free, 1:00
Lunar New Year Celebration, with live performance and paper-cutting workshop sponsored by the New York Chinese Cultural Center, Staten Island Children's Museum, 1000 Richmond Terr., $8, 2:00 – 4:00
follow twi-ny
 navigate
listings