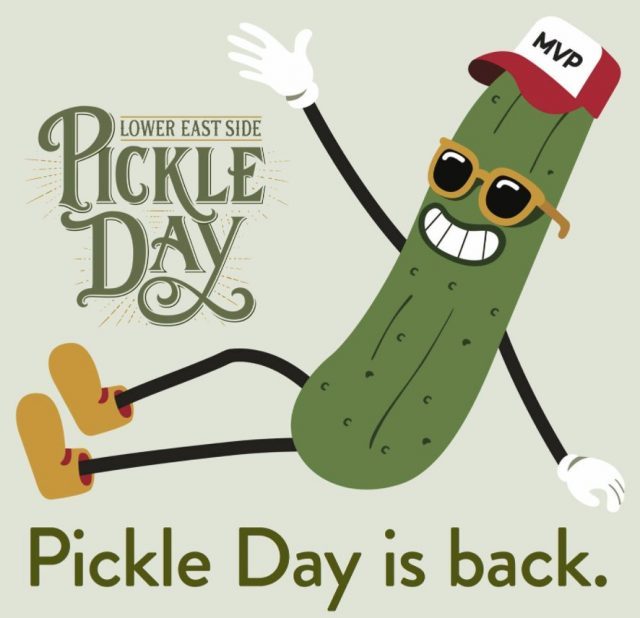 Orchard St. between Houston & Delancey Sts.
Sunday, October 15, free, 12 noon - 5:00 pm
pickleday.nyc
"A naughty pickle is how I'd best describe myself. I think fun and laughter is the whole point of life," Olivier Award-winning actress Celia Imrie told Woman & Home in 2009. Indeed, pickles are all about fun and laughter, which should be available in abundance at the annual Lower East Side Pickle Day, being held Sunday on Orchard St. between Houston and Delancey. Among those participating in the festivities, which include food, fashion, and family-friendly games and activities, are pickled purveyors Guss' Pickles, Pickle Me Pete, Backyard Brine, Grillo's Pickles, Crisp Pickles, Messy Brine, the Pickle Guys, Rick's Picks, Horman's Best Pickles, Adamah Farm, Brooklyn Brine, MacDonald Farms, Epic Pickles, Brine Brothers, City Saucery, Brooklyn Whatever, Kilhaney's Pickles, Anomaly Season, and Pickals Foundation in addition to Melt Bakery, Saxelby Cheesemongers, Sweet Buttons Desserts, the Meatball Shop, Shi Eurasia, Macaron Parlour, the SKINny Bar & Lounge, Georgia's BBQ, Pop Karma, and Roni-Sue's Chocolates. There will also be live music and a home pickling contest. Pickles have a long affiliation with the Lower East Side, and the annual Pickle Day only adds to that pickled history.
follow twi-ny
 navigate
listings