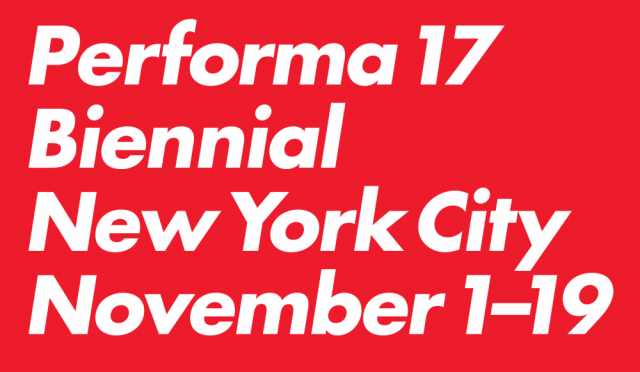 Multiple venues
November 1-19, free - $40
17.performa-arts.org
The seventh Performa biennial takes place November 1-19 in multiple venues around the city, featuring an impressive roster of international artists pushing the limits of what live performance can be. This year's lineup includes ten Performa commissions and dozens of events, from film, poetry, and dance to architecture, music, and comedy, arranged in such categories as Performa Projects, Performa Premieres, and Pavilion without Walls. In addition to the below recommendations for this always exciting festival, there will be presentations by Kendell Geers, Xavier Cha, Yto Barrada, Brian Belott, Flo Kasearu, Jimmy Robert, Mohau Modisakeng, Kelly Nipper, Kemang Wa Lehulere, Nicolas Hlobo, Kris Lemsalu with Kyp Malone, the Marching Cobras of New York, and others at such venues as Abrons Arts Center, BAM, the Met, White Box Arts Center, Marcus Garvey Park, the Connelly Theater, St. Mark's Church in-the-Bowery, Harlem Parish, and the Glass House in New Canaan.
Thursday, November 2, 7:00
Friday, November 3, 7:00 & 9:00
Saturday, November 4, 7:00
Teju Cole: Black Paper, BKLYN Studio at City Point, 445 Albee Square West, $15-$25
Thursday, November 2, 9, 16
Barbara Kruger: The Drop, Performa 17 Hub, 47 Walker St., $5, 4:00 - 8:00
Sunday, November 5
Monday, November 6
William Kentridge: Ursonate, Harlem Parish, 258 West 118th St., $25-$40, 7:00
Sunday, November 5, 12, 19
Eiko Otake: A Body in Places, Metropolitan Museum of Art, free with museum admission, 10:30 am
Wednesday, November 8
Estonian Pavilion Symposium: Call for Action — Key Moments of Estonian Performance Art, lecture and screening with curators Anu Allas and Maria Arusoo, free, Performa 17 Hub, 47 Walker St., 5:00
Thursday, November 9
Friday, November 10
Saturday, November 11
The Tracey Rose Show in Collaboration with Performa 17 and Afroglossia Presents: The Good Ship Jesus vs The Black Star Line Hitching a Ride with Die Alibama [Working Title], the Black Lady Theatre, 750 Nostrand Ave., $15-$25, 7:30
Friday, November 10
Zanele Muholi on Visual Activism, grand finale of two weeks of meetings, performances, discussions, and art-making, the Bronx Museum, 1040 Grand Concourse, free, 7:00
Friday, November 10
through
Sunday, November 19
Alex Schweder and Ward Shelley: The Newcomers, with Lena Kouvela and Sarah Burns, 28 Liberty Plaza, free, all day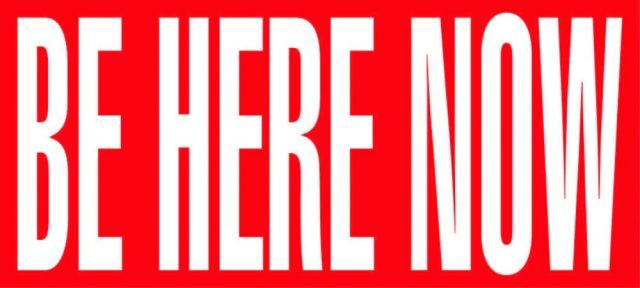 Saturday, November 11
Architecture Conference, with Giovana Borasi, Lluís Alexandre Casanovas Blanco, Yve Laris Cohen, Cooking Sections (Daniel Fernández Pascual & Alon Schwabe), and Elizabeth Diller, Performa 17 Hub, 47 Walker St., free, 2:00 - 6:00
Monday, November 13
Tuesday, November 14
Wangechi Mutu: Banana Stroke, Metropolitan Museum of Art, Grace Rainey Rogers Auditorium, free with museum admission, 7:00
Monday, November 13
through
Friday, November 17
Kwani Trust: Everyone Is Radicalizing, multimedia installation and public programs, Performa 17 Hub, 47 Walker St., free, 12 noon – 6:00 pm
Wednesday, November 15
Thursday, November 16
Friday, November 17
Anu Vahtra: Open House Closing. A Walk, Performa 17 Hub, 47 Walker St., free, 5:00
Thursday, November 16
Julie Mehretu and Jason Moran: MASS (HOWL, eon), Harlem Parish, 258 West 118th St,, $25-$40, 7:00 & 9:00
Thursday, November 16
Friday, November 17
Saturday, November 18
Gillian Walsh: Moon Fate Sin, Danspace Project, St. Mark's Church in-the-Bowery, 131 East Tenth St., $22-$25, 8:00