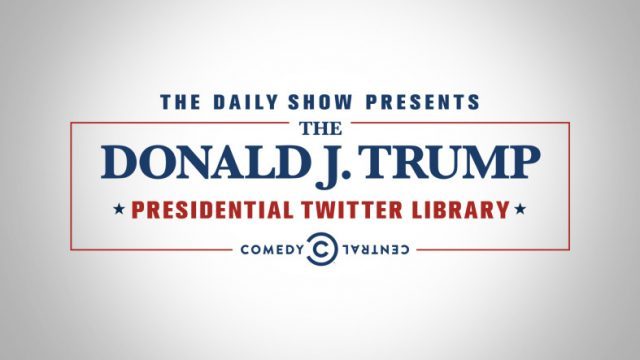 3 West 57th St. between Fifth & Sixth Aves.
June 16-18, free, 11:00 am – 7:00 pm
www.cc.com
Following in the exalted footsteps of New Jersey's Jon Stewart, South African comedian Trevor Noah has continued the political humor that has made The Daily Show must-see TV for two decades. Noah is not exactly a fan of Donald Trump's, bringing a serious edge to his nightly jokes about what is going on in Washington and around the world. This weekend Comedy Central and The Daily Show is presenting "The Donald J. Trump Presidential Twitter Library," an installation on East Fifty-Seventh St. that celebrates the president's obsession with tweeting his thoughts on social media without a filter, often in the wee hours of the morning, when few people are doing their best thinking. President Trump is expert at getting himself into deeper hot water time and time again in 140 characters or less, impacting court cases, federal investigations, and public policy with his often bizarre diatribes. The display features a silhouette of the commander-in-tweet's head filled with many of his favorite words and hashtags, a look at how Trumpstradamus has done as a prognosticator, a list of the "most attacked," caricatures of some of his more famous twitter victims, a photo op at a replica of the president's desk in the oval office, and tweets organized into such themes as "Always the Best," "Holiday Cheer," and "Concern for the Integrity of the American Presidency." You can also generate your own Trump nickname. The free exhibition, which gets right down to the nitty-gritty of the art of the tweet, considers these "unpresidented" messages important historical documents, and you'll be able to revel in their bigly-ness through June 18; expect plenty of covfefe.