CELEBRATE ISRAEL PARADE
57th to 74th St. up Fifth Ave.
Sunday, June 4, free, 12 noon – 4:00 pm
celebrateisraelny.org
On May 14, 1948, "The Declaration of the Establishment of the State of Israel" proclaimed, "The State of Israel will be open for Jewish immigration and for the Ingathering of the Exiles; it will foster the development of the country for the benefit of all its inhabitants; it will be based on freedom, justice, and peace as envisaged by the prophets of Israel; it will ensure complete equality of social and political rights to all its inhabitants irrespective of religion, race, or sex; it will guarantee freedom of religion, conscience, language, education, and culture; it will safeguard the Holy Places of all religions; and it will be faithful to the principles of the Charter of the United Nations." Israel's existence has been fraught with controversy since the very beginning, and there have been recent issues involving President Trump, but the nation perseveres, and on June 4 its sixty-ninth birthday will be honored with the annual Celebrate Israel Parade. This year's theme is "Celebrate Israel All Together!," a tribute to the ideal of Israel as a model of diversity. As the official parade website explains, "Together, we are stronger. We encourage and support each other; we celebrate our differences and find common ground; we increase our understanding of ourselves, each other, and the world. Our love for Israel unites us throughout history, now and forever! All together, we celebrate Israel!" On Sunday, tens of thousands of marchers are expected to make their way from Fifty-Seventh to Seventy-Fourth St. up Fifth Ave. Among the performers will be Avram Pengas & the Noga Group, Galgal Ba'Ma'agal, Golem, the Israel Dance Institute — Paparim Ensemble Dancers, the Kleztaphobix, Six13, SOULFARM, Yarden Klayman, and Milk & Honeys; David Serero will sing the Hatikva. The grand marshal is Rabbi Haskel Lookstein, with honorary grand marshals Tiki Barber, Nir Barkat, Jamie Geller, and Chaim Gozali. Special guests include Maccabi USA Team, Lenny Krayzelburg, and Arik Ze'evi, along with members of the Israeli Knesset and American public officials.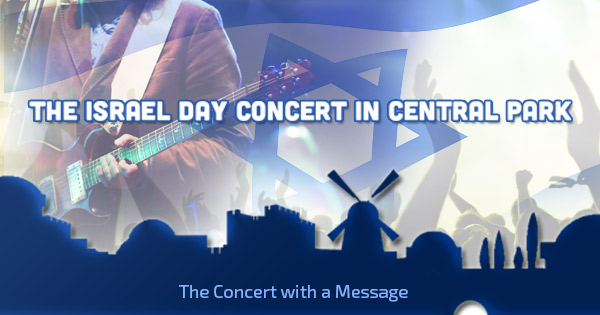 In addition, the unaffiliated Israel Day Concert in Central Park is a free show in Rumsey Playfield (2:30–7:30) that this year pays tribute to the fiftieth anniversary of the Six-Day War and a reunified Jerusalem. There will be live performances by Beri Weber, Tal Vaknin, Elron Zabatani and Shlomi Aharoni, Shloime Dachs Orchestra & Singers, Avi Kilimnick, Michoel Pruzandsky, Mati Shriki, Dr. Meyer Abittan, Jerry Markowitz, Chaim Kiss, Izzy Kieffer and Heshy R, White Shabbos, and others, as well as a lineup of mostly hawkish speakers: Danny Danon, John Bolton, Major Pete Hegseth, Boris Epshteyn, Danny Dayan, Aaron Klein, Lt. Col. Yoni Chetboun, Nir Barkat, and Morton Klein.