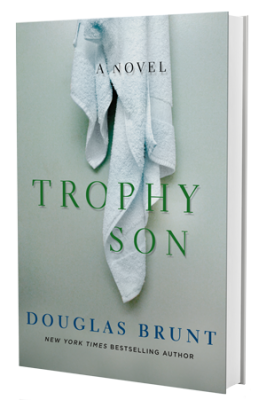 Who: Douglas Brunt, Jay McInerney
What: Reading and discussion about Trophy Son (St. Martin's, May 30, $25.99)
Where: Bryant Park, Fortieth to Forty-Second Sts. between Fifth & Sixth Aves.
When: Wednesday, May 31, free, 12:30
Why: "In the end, man shapes the world, but the world gets the first crack at us. We're not much more than a puddle before we're two years old, and then more years to develop so we can survive on our own. Until then we take in more impressions than we give." So begins Philadelphia native Douglas Brunt's third novel, Trophy Son, about a tennis prodigy. Brunt (Ghosts of Manhattan, The Means) is on a high-powered book tour that will bring him to the Bryant Park Reading Room on May 31 at 12:30 for a reading and discussion with Jay McInerney, author of Bright Lights, Big City; The Good Life; and Bright, Precious Days, among others. Brunt will also be at the Barnes & Noble at Eighty-Second & Broadway with Harlan Coben on May 30 at 7:00, at Powerhouse in Brooklyn with Amor Towles on June 2 at 7:00, and at Book Revue in Huntington on June 3 at 7:00 with Nelson DeMille (followed by events in DC and Philly with his wife, Megyn Kelly). The free summer reading series in Bryant Park continues on Wednesday afternoons with Robin Kall on June 7, Susan Rieger on June 14, Don Winslow on June 21, and Anthony M. DeStefano on June 28.