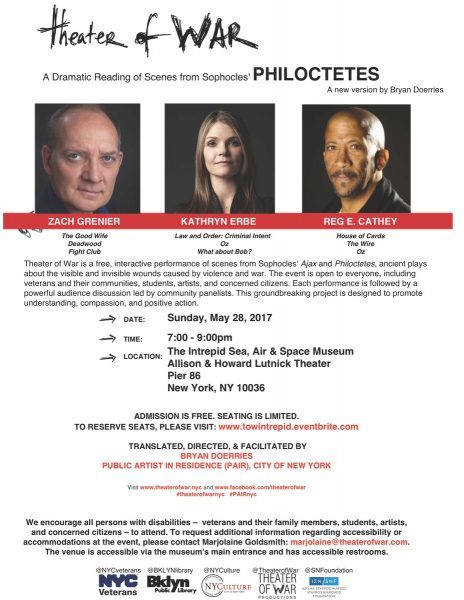 Who: Zach Grenier, Kathryn Erbe, Reg E. Cathey
What:Free performance of scenes from ancient Greek play, followed by Q&A
Where: Allison & Howard Lutnick Theater, Intrepid Sea, Air & Space Museum, Pier 86, West Forty-Sixth St. & Twelfth Ave.
When: Sunday, May 28, free with RSVP, 7:00
Why: In conjunction with Fleet Week, Theater of War is presenting a dramatic reading of scenes from Sophocles' Philoctetes, translated, directed, and facilitated by Brooklyn-based artistic director Bryan Doerries, author of The Theater of War: What Ancient Greek Tragedies Can Teach Us Today. The event, part of a project that "is designed to promote understanding, compassion, and positive action," features Tony nominee Zach Grenier (The Good Wife, 33 Variations), Tony nominee Kathryn Erbe (Law & Order: Criminal Intent, The Speed of Darkness), and Emmy winner Reg E. Cathey (The Wire, House of Cards). The dramatic reading will be followed by a Q&A with community panelists.