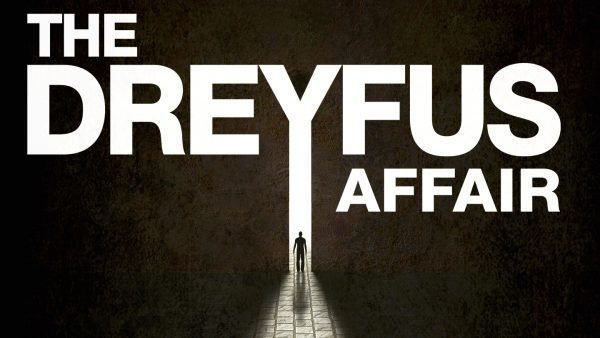 BAM Fisher, Fishman Space
321 Ashland Pl.
April 27 - May 7, $55-$140
718-636-4100
romanticcentury.org
www.bam.org
With the current rise in hate crimes in America and around the world, particularly involving anti-Semitism, it is an excellent time to revisit one of the most famous military cases of the nineteenth century, when French artillery officer Captain Alfred Dreyfus was arrested for treason and faced a court-martial that could send him to Devil's Island, chosen primarily because he was Jewish. Manhattan-based Ensemble for the Romantic Century will be telling the famous story in its own inimitable style in The Dreyfus Affair, at BAM Fisher, combining narrative with historical music; the company was previously at BAM with 2015's Jules Verne: From the Earth to the Moon and 2016's Akhmatova: The Heart Is Not Made of Stone. Tony nominee Max von Essen (An American in Paris) stars as Alfred Dreyfus, with Peter Scolari as Émile Zola, Mark Evans as Matieu, Alfred's older brother, Meghan Picerno as Alfred's wife, Lucie, and Timothy McDevitt as Lieutenant Georges Picquart. The cast also features Daniel Rowan, Dee Pelletier, Mark Andrew Coffin, Mark Light-Orr, and Richard Waddingham. The score will include works by Ravel, Franck, Halévy, Rameau, and Ligeti, performed by Grace Park and Daniel Cho on violin, Chieh-Fan Yiu on viola, Nico Olarte-Hayes on cello, Jake Chabot on flute and piccolo, Parker Ramsey on organ and harpsichord, and Max Barros on piano. The show is written by Eve Wolf and directed by Donald T. Sanders, with sets and costumes by Vanessa James, lighting design by Beverly Emmons, and projection design by David Bengali.
TICKET GIVEAWAY: The Dreyfus Affair runs April 27 through May 7 at BAM Fisher, and twi-ny has three pairs of tickets to give away for free. Just send your name, daytime phone number, and favorite play, movie, or book about Alfred Dreyfus to contest@twi-ny.com by Friday, April 21, at 12:00 midnight to be eligible. All entrants must be twenty-one years of age or older; three winners will be selected at random.