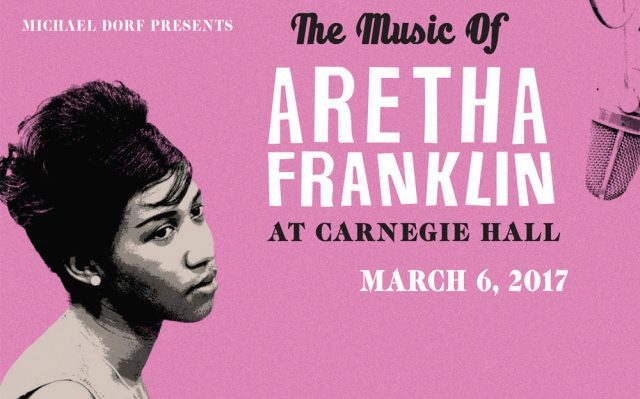 Who: Kenny Loggins, Melissa Etheridge, Rhiannon Giddens, Bettye LaVette, Allen Stone, Glen Hansard, Taj Mahal & Deva Mahal, Living Colour, G. Love, Sarah Dash, Sam Moore, Ledisi, Todd Rundgren, Ceelo Green, Naomi Shelton, Richard Thompson, and Antibalas
What: Fundraising tribute to Aretha Franklin
Where: Carnegie Hall, Stern Auditorium / Perelman Stage, 57th St. & Seventh Ave., 212-247-7800
When: Monday, March 6, $48-$160, 8:00 (Live Rehearsal Show March 5 at City Winery, $40-$65, 8:00)
Why: Legendary R&B singer Aretha Franklin just announced her retirement from touring (she will still record at least one more album, with Stevie Wonder), so "The Music of Aretha Franklin" tribute being held March 6 at Carnegie Hall couldn't be much more timely. City Winery owner Michael Dorf's "Music of" celebrations, benefits for numerous music education programs for underprivileged youth, in the past have honored such musicians as Prince, the Rolling Stones, Neil Young, the Who, R.E.M., Bruce Springsteen, Joni Mitchell, and Bob Dylan; this year an all-star lineup pays R.E.S.P.E.C.T. to the Memphis-born soul superstar who will turn seventy-five on March 25; her #1 hits include "Chain of Fools," "Think," "Jump to It," "Freeway of Love," and, of course, "Respect." In addition, on March 5, City Winery will be hosting the annual Live Rehearsal Show, in which many of the artists performing at the Carnegie Hall show will rehearse in front of an audience, led by house band Antibalas.