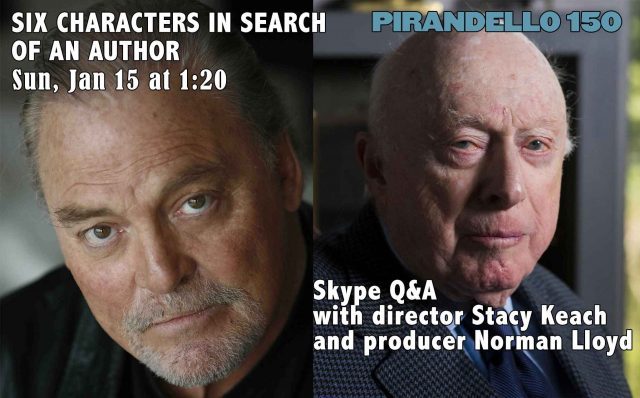 Who: Stacy Keach, Norman Lloyd
What: Free screening and Skype Q&A
Where: Film Forum, 209 West Houston St., 212-727-8110
When: Sunday, January 15, free, 1:20
Why: In 1976, actor Stacy Keach directed a modern-day version of Luigi Pirandello's Six Characters in Search of an Author, set in a television studio. Adapted by soap opera writer Paul Avila Mayer (Ryan's Hope), the PBS TV movie starred Julie Adams as the Mother, Andy Griffith as the Father, Patricia Hitchcock as the Character Lady, John Houseman as the Director, Beverly Todd as the Stepdaughter, and James Keach as, appropriately enough, the Son. The film is getting a rare public showing on Sunday, January 15, at 1:20, at Film Forum, and admission is free. And as an even more special treat, Stacy Keach (Fat City, Mickey Spillane's Mike Hammer) and executive producer Norman Lloyd — yes, that Norman Lloyd, the 102-year-old stage and screen actor, director, and producer who played the villain in Alfred Hitchcock's Saboteur, starred as Dr. Daniel Auschlander on St. Elsewhere, was the fool in the 1950-51 National Theatre production of King Lear directed by Houseman, was a Cavalcade of America radio regular during WWII, and was most recently seen as Amy Schumer's father's hospice friend in Judd Apatow's Trainwreck — will be taking part in a live Skype Q&A following the screening, which is part of the Film Forum series "Pirandello 150," a celebration of the 150th birthday of the Nobel Prize-winning dramatist that continues through January 19 with such other rarities as Paolo & Vittorio Taviani's Kaos and Tu Ridi, Marcel L'Herbier's The Late Mathias Pascal, Marco Bellocchio's The Nanny and Henry IV with Marcello Mastroianni, and Alessandro Blasetti's Liolà.
follow twi-ny
 navigate
listings