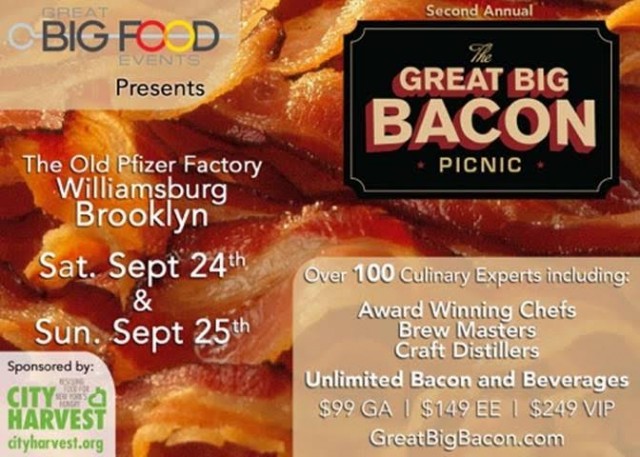 The Old Pfizer Factory
630 Flushing Ave., Williamsburg
September 24-25, $79-$249 (twenty-one and older only)
greatbigbacon.com
Mmm, bacon. . . . The second annual Great Big Bacon Picnic is set for September 24-25 at the Old Pfizer Factory in Williamsburg, where more than one hundred purveyors of food and drink will join together for an extravaganza of all things bacon. Chefs from all over New York City will show just how diverse the sizzling meat can be with a bevy of bite-sized delights that can be washed down with specially selected beer, wine, and spirits. Among the many participants are BaconFB4, Traif, Williamsburg Pizza, Antony "Tony Bacon" Nassif of Mile End Deli, Tres Carnes, Roni-Sue's Chocolates, BarBacon, Veselka, Walter Momente and Jon Streep of Alidoro, Big Papa Smokem Gourmet Smoked Meats, Brooklyn Baked and Fried, Chef's Cut Real Jerky, Feast, Off the Hook Raw Bar & Grill, Potatopia, Dirty Burger, and 2015 GBBP champ Arthur Saks. Potent potables will be available from Shiner Beer, New Belgium Brewing Co., Van Brunt Stillhouse, Two Roads Brewing Co., Iron Smoke Whiskey, Doc Herson's Natural Spirits, Domaine des Haute Glace "Les Moisson" French Single Malt, Domaine d'Esperance Armagnac, Derrumbes Mezcal, and many more. There are three ticket packages for the three sessions, which take place on Saturday from 12 noon to 2:30 for brunch, Saturday from 5:30 to 8:00 for happy hour, and Sunday from 1:00 to 3:30 for brunch. Brunch and happy hour are currently being discounted to $79, with half-hour early entry $114 and VIP $189 (including one-hour early entry and access to private lounges and gift bag). Ten percent of the proceeds go to such local charities as City Harvest and No Kid Hungry. The High & Mighty Brass Band will provide live music, and first-time Lyft users can get a $50 credit here. Everyone gets unlimited bacon — and no turkey bacon, soy bacon, or other substitutes. And don't forget to belly up to the Bacon Bar.