THE BLACK CAT (Edgar G. Ulmer, 1934)
BAMcinématek, BAM Rose Cinemas
30 Lafayette Ave. between Ashland Pl. & St. Felix St.
Tuesday, August 16, 4:30 & 8:00
Series continues through August 24
718-636-4100
www.bam.org

The BAMcinématek series "Joe Dante at the Movies" consists of films directed by the New Jersey native alongside selections that influenced him, from his own Gremlins, Piranha, and The Howling to Arthur Penn's Mickey One, Jack Arnold's The Incredible Shrinking Man, and Douglas Hickox's Theatre of Blood. For August 16, Dante has chosen the deliciously demented double feature of Edgar Ulmer's 1934 hit The Black Cat and Roger Corman's 1959 cult favorite A Bucket of Blood. The former features the first pairing of Béla "Count Dracula" Lugosi and Boris "Frankenstein's Monster" Karloff, and it's a doozy. Through an unfortunate series of events, newlyweds Peter (David Manners) and Joan Alison (Julie Bishop) end up at the Art Deco home of architect Hjalmar Poelzig (Karloff), built atop the site of a bloody World War I battle where thousands of people died. The Alisons were led there by Dr. Vitus Werdegast (Lugosi), who believes his wife and daughter were killed by Poelzig and has returned from a long stint in jail to exact his revenge. Dr. Werdegast describes the creepy mansion as "a masterpiece of construction built upon the ruins of the masterpiece of destruction, the masterpiece of murder," but little does he know that it might also be a place of Satanism, necrophilia, incest, and other decadent delights. Bishop does a lot of screaming and fainting, and Egon Brecher as Dr. Werdegast's zombielike Majordomo and Harry Cording as Poelzig's Igor-like assistant, Thamal, don't exactly put on an acting clinic. The story, written by novelist Paul Cain under the pseudonym Peter Ruric, does tend to meander a bit, and don't be fooled by the title or the opening credits, as it has nothing to do with Edgar Allan Poe's short story "The Black Cat" other than trying to capitalize on the name.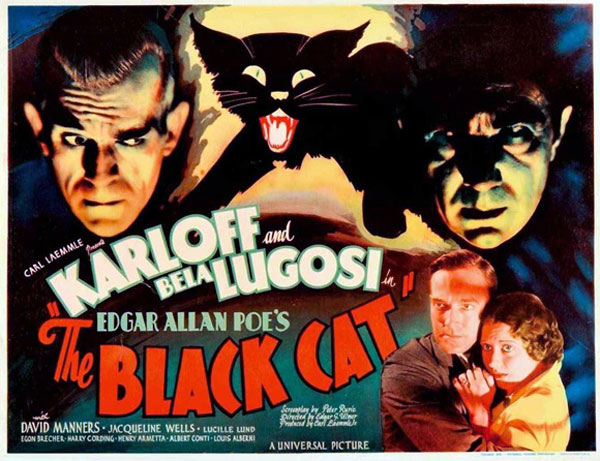 But that doesn't mean it isn't both scary and a whole lot of fun, with a fab score by Heinz Roemheld that runs through the whole film, which was unique for its time. The Black Mass scene, with an uncredited B-list collection of all-star cameos (John Carradine, Paul Panzer, John George, Michael Mark, King Baggot, Symona Boniface, Virginia Ainsworth, Lois January, Harry Walker, Billie Burke, and Beatrice Lillie), is spectacular, as is a late fight between Poelzig and Dr. Werdegast. And just try to take your eyes off Karloff's tremendous widow's peak. "Ulmer's dark masterpiece was his last studio movie, so grim that a third of it had to be reshot," Dante explains about the film. "It's still the creepiest and most poetic of all the early Universal horror films; certainly the finest collaboration between Karloff and Lugosi. Great classical music score, disturbing psychosexual underpinnings, and a pervasive atmosphere of evil that has latterly spawned literary works by Ramsey Campbell and Theodore Roszak." Former set designer Ulmer would go on to make such films as The Strange Woman, Detour, Bluebeard, and The Man from Planet X; Karloff and Lugosi would team up for seven more films, including The Raven, Black Friday, and The Body Snatcher.
A BUCKET OF BLOOD (Roger Corman, 1959)
BAMcinématek, BAM Rose Cinemas
Tuesday, August 16, 4:30 & 8:00
www.bam.org

Writer Charles B. Griffith and producer and director Roger Corman skewer — and we do mean skewer — beatnik culture, the elitist art world, and their very own horror genre in the freaky-fun satire A Bucket of Blood. Inspired by Michael Curtiz's 1933 The Mystery of the Wax Museum and André de Toth's 1953 3D classic House of Wax and adding more than a dash of Macbeth, Griffith and Corman tell the lurid tale of one Walter Paisley (Dick Miller), a relatively simple-minded busboy at the Yellow Door, a smoky bohemian nightclub in San Francisco, where pre-Williamsburg hipster Maxwell H. Brock (Julian Burton) recites his poetry and hobnobs with his adoring fans. "I will talk to you of art, for there is nothing else to talk about, for there is nothing else," Brock says over the opening credits, looking directly into the camera. "Swim on, you maudlin, muddling, maddened fools, and dream that one bright and sunny night some artist will bait a hook and let you bite upon it. Bite hard, and die!" Maxwell's bloviating words impress Walter, who repeats them to himself as he is determined that he, too, will become an artist. Back at home, Walter is trying to make a clay bust of club hostess Carla (Barboura Morris, who later appeared in The Wasp Woman and The Trip), who he has a crush on, but he is interrupted by the meows of a cat trapped in the wall. In trying to free the cat, Walter accidentally stabs it to death, then decides to cover it in clay, leaving the knife in it, and show it off at the club so he can join the prestigious ranks of the art world. (No one quite gets the irony of his having killed a cat, hipster slang for a supposed cool person.) He is indeed celebrated by Maxwell, Carla, and most of the others, except for his boss, Leonard (Antony Carbone), who is suspicious of Walter's sudden talent but doesn't mind making a quick buck off his employee. Also keeping a close eye on things are undercover cops Art Lacroix (Peyton Place star Ed Nelson) and Lou Raby (game show host Bert Convy, billed as "Burt" Convy), who are looking to make some drug busts. Walter's instant success goes straight to his addled little head, so soon he is creating disturbing statues of — well, let's just say people start going missing in the neighborhood. Walter is determined to stay in the spotlight, no longer ignored, but it's all liable to fall apart at any moment, like so much broken clay.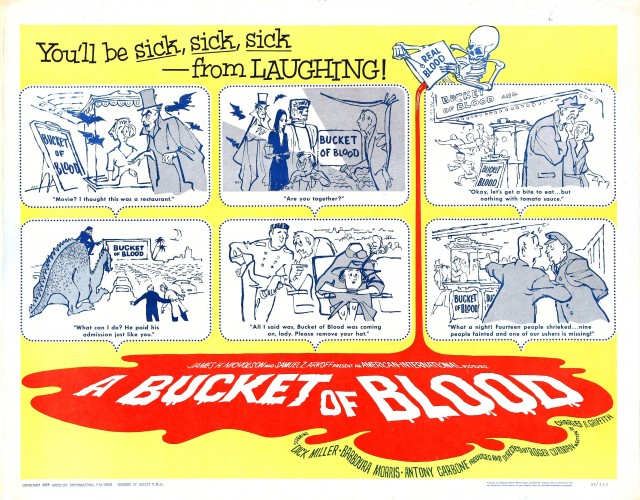 Shot in five days in black-and-white for $50,000 on existing sets (some of which would be used again for Griffith and Corman's next comedy, the somewhat similarly themed Little Shop of Horrors), A Bucket of Blood suffers from the whirlwind production schedule and extremely low budget — Miller has since complained that there wasn't enough time or money to prepare a proper finale, and he's right — but it's still a hoot, a playful stab at many of the genre conventions that Griffith (The Wild Angels, Eat My Dust!) and Corman (The Pit and the Pendulum, The Terror) established working for American International Pictures. This horror comedy is extremely creepy and very funny, with a superb lead performance by Miller, a distinctive, longtime character actor who would actually play men named Walter Paisley in several later films (including Joe Dante's The Howling and Jim Wynorski's Chopping Mall) as an homage to his triumph here. You can feel his every twisted emotion as he tries so hard to become an artist and capture Carla's romantic attention and thereby help them and others reach immortality. Photographed by Jacques R. Marquette and featuring a Twilight Zone–like score and pace (the Rod Serling series began the same year), A Bucket of Blood well deserves its cult status as a camp classic. "The counterculture wit and wisdom of writer Charles B. Griffith, Roger Corman's hipper-than-thou alter-ego, is in even fuller flower here than in his classic follow-up, Little Shop of Horrors, aided immeasurably by Dick Miller's indelible performance as psychotic busboy Walter Paisley. Pretty good for five days and $50,000," Dante says about the film, which is screening with The Black Cat on August 16 in the BAMcinématek series "Joe Dante at the Movies," which continues through August 24, consisting of films by or that influenced Dante, including Gremlins, Cold Turkey, Innerspace, Gremlins 2: The New Batch, and, of course, The Howling.