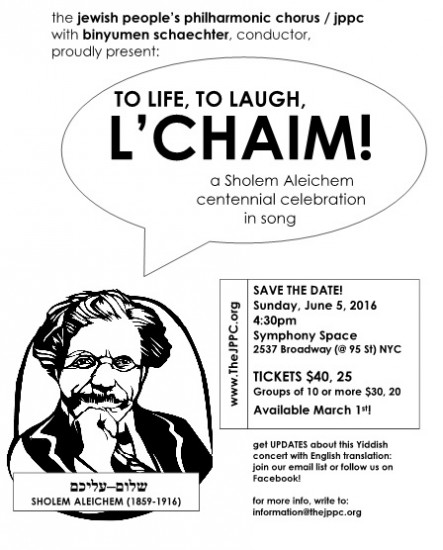 Symphony Space, Peter Jay Sharp Theatre
2537 Broadway at 95th St.
Sunday, June 5, $15-$40, 4:30
212-864-5400
www.symphonyspace.org
thejppc.org
In May 1916, Yiddish author and playwright Solomon Naumovich Rabinovich, better known as Sholem Aleichem, died in the Bronx at the age of fifty-seven from tuberculosis and diabetes, leaving behind a legendary legacy of Jewish storytelling. On June 5, the Jewish People's Philharmonic Chorus will honor the one hundredth anniversary of his death with a special concert at Symphony Space, "To Life, to Laugh, L'Chaim!: A Centennial Celebration in Song of Sholem Aleichem." The show will feature brand-new choral arrangements of Yiddish versions of songs from Fiddler on the Roof in addition to "Shalom aleichem malachei hasharet," "Baby, It's Cold Outside," "Afn pripetshik," and others. Sholem Aleichem's epitaph ("Here lies a plain man, / Who wrote in plain Yiddish, / And to readers he was known / A humorist, a writer . . .") will also be set to music, in a world premiere. The concert will be conducted by Binyumen Schaechter, with pianist Seth Weinstein and guest soloists Cantor Joshua Breitzer, Donna Breitzer, Cantor Joel Caplan, and Temma Schaechter. There has been quite a recent resurgence in Yiddish theater of late, including last fall's New Yiddish Rep version of Arthur Miller's Death of a Salesman at the Castillo Theatre, the National Yiddish Theatre Folksbiene's delightful re-creation of The Golden Bride, which returns to the Museum of Jewish Heritage this summer, as well as, of course, the current Broadway revival of Fiddler, so this concert continues the very happy trend.