Atlantic Theater Company
Linda Gross Theater
336 West 20th St. between Eighth & Ninth Aves.
Tuesday - Sunday through April 17, $66.50-$96.50
866-811-4111
atlantictheater.org
Emmy-nominated Deadwood and Justified star Timothy Olyphant makes a welcome return to the New York stage for the first time in twenty years in the world premiere of Kenneth Lonergan's Hold on to Me Darling, which continues at the Atlantic through April 17. In 1996, Olyphant appeared at the Atlantic in The Santaland Diaries, Joe Mantello's adaptation of a Christmas-themed essay by David Sedaris. In 2000, Olyphant auditioned for Lonergan's You Can Count on Me but didn't get the part; however, this time around Lonergan went right to Olyphant for the role of Strings McCrane, a contemporary version of a massively popular Elvis Presley–like country singer and movie star. An extended investigation into the construction of self in our age of celebrity, the play opens in a hotel room, a way station where McCrane suddenly finds himself at a crossroads when his beloved mother dies. Reevaluating his life and career, he decides that he's a fraud who never lived up to his mama's expectations. "I'm thirty-nine years old, and I ain't never met a woman yet who looks at me twice for myself. All they see is Strings McCrane. But he ain't there no more, Jimmy. How can they grab hold of a man who isn't there? How can you touch somethin' you can't feel?" he says to his long-suffering, dedicated assistant, Jimmy (Keith Nobbs), who has quite a man crush on his boss. AWOL from the science-fiction movie he's shooting in Kansas City, Strings is preparing for his mother's funeral in Tennessee while trying to avoid the press and paparazzi. He quickly falls for married masseuse Nancy (Jenn Lyon), a big fan who can't wait to get her hands on him, in more ways than one.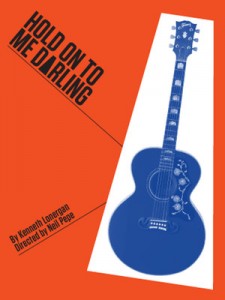 Strings soon decides that he is going to leave the high life and settle down and raise a family. "I don't want to be a somethin' anymore, Nancy. I want to be a person. The person my mama always wanted me to be. And that's what I'm gonna dedicate my life to doin', just as soon as I get done with this goddamn space movie," he tells her. Back in Tennessee, he meets with his somewhat estranged brother, Duke (C. J. Wilson), a hearty and hardy working man with a wife and kids and lots of debt. Duke, who is prone to such phrases as "Jesus Christ in a downtown Memphis hair salon," doesn't believe that Strings can make such a drastic change, that he could say goodbye to stardom and instead get a job at Ernie's feed store. "I'm dead serious, Duke," Strings says. "I know it sounds crazy. But why not? I'm totally miserable, Duke. My life is a sham. I'm gonna say that again: My life is a sham. And if I don't find some kind of peace inside myself I'm gonna put a shotgun in my mouth one of these days and paint the back of the tool shed with my brains." Strings finds yet another reason to come back home when, at the funeral home, he reconnects with Essie (Adelaide Clemens), his second cousin, twice removed, who has blossomed into a beautiful young woman who recently lost her father and husband. Essie is honest and forthright, the salt of the earth, a person who, like Duke, is not afraid to speak the truth with Strings, whose life is otherwise filled with sycophants. "I guess maybe getting' other people to think for him and make up excuses for him and invent a whole lot of reasons why the ordinary rules of human decency don't apply to him is all part of who he is," Essie says to Nancy, "and what we've all made him into. With his enthusiastic participation, I might add."
The first act is an outrageous tour de force of brilliant acting, writing, and directing, both funny and poignant, as Lonergan (This Is Our Youth, The Waverly Gallery) and Atlantic artistic director Neil Pepe (Hands on a Hardbody, Speed-the-Plow) delve into the psyche of a seemingly wildly successful man who reaches the conclusion that his entire life has been a waste. Unfortunately, Lonergan has written himself into a corner that he can't quite get out of in the second act, when Strings goes back to his hometown and tries to make a go of it as just a regular guy. But Hold on to Me Darling, even without its direct-address comma, is a joy to experience, led by a terrific performance by Olyphant, whose southern twang and wide-eyed innocence are utterly engaging. Wilson (The Lady from Dubuque, Happy Now?), one of New York's best actors, delivers a John Goodman–esque performance as Duke, who isn't exactly thrilled with how his "normal" life has turned out either. In her off-Broadway debut, Clemens (Rectify, Parade's End) is sweet and charming as the sweet and charming Essie, a serious young woman whose view of the world is not quite as realistic as she might think. Walt Spangler's (Between Riverside and Crazy, Tuck Everlasting) revolving set offers a little big of magic as it goes from scene to scene as if shifting between compartments in Strings's brain. Hold on to Me Darling is no mere tragicomic tale of fame and fortune but instead a complex story of love and loneliness, of family and legacy, exploring the trials and tribulations of a superstar who just wants to be treated like any other human being. And is that so much to ask?