THE WILD BUNCH (Sam Peckinpah, 1969)
Film Society of Lincoln Center, Walter Reade Theater
165 West 65th St. between Eighth Ave. & Broadway
Thursday, March 31, 8:30, and Friday, April 1, 1:30
Series runs March 31 - April 7
212-875-5050
www.filmlinc.org

Sam Peckinpah cemented his reputation for graphic violence and eclectic storytelling with the genre-redefining 1969 Western The Wild Bunch. When a robbery goes seriously wrong, Pike Bishop (William Holden), Dutch Engstrom (Ernest Borgnine), Freddie Sykes (Edmond O'Brien), Angel (Jaime Sánchez), and brothers Lyle (Warren Oates) and Tector Gorth (Ben Johnson) set out to get even, planning an even bigger score by going after a U.S. Army weapons shipment on a railroad protected by detective Pat Harrigan (Albert Dekker) and his hired gun, Deke Thornton (Robert Ryan), who is given nothing but "egg-suckin', chicken-stealing gutter trash" to work with, including the hapless Coffer (Strother Martin) and T.C. (L. Q. Jones). The aging Pike, who sees this as his last score, is worried about being in cahoots with the unpredictable General Mapache (Emilio Fernández), a local warlord battling Pancho Villa's freedom forces. But at the center of the film is the cat-and-mouse game between Pike and Thornton, the latter determined to capture his former partner, who left him to rot in jail years earlier. It all comes to a head in Agua Verde, which might translate to "Green Water" but will soon be bathed in red blood in one of the most violent shoot-outs ever depicted on celluloid.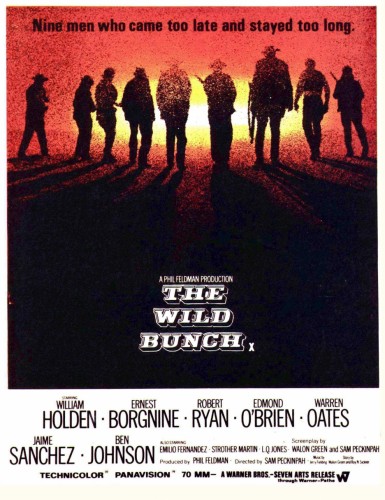 Peckinpah fills the film with plenty of drinking and whoring, and even torture, while exploring friendship and loyalty, embodied by Dutch's selfless dedication to Pike. The Wild Bunch might be famous for its intense violence, much of it shot in slow motion, but it also has a lot more going for it, from its Oscar-nominated score by Jerry Fielding to its terrific cast and suspenseful twists and turns. (Western fans might get a kick out of knowing that Mapache's right-hand man, Lt. Herrera, is portrayed by Mexican actor and director Alfonso Arau, who later played El Guapo in John Landis's comic Western The Three Amigos.) The Wild Bunch is screening March 31 (introduced by Garner Simmons, author of Peckinpah: A Portrait in Montage) and April 1 in the fabulously titled Film Society of Lincoln Center series "Bring Me the Head of Sam Peckinpah," which includes all of the major movies made by the iconoclastic director, who died in 1984 at the age of fifty-nine. Also in the series, which continues through April 7, are The Ballad of Cable Hogue, Bring Me the Head of Alfredo Garcia, Cross of Iron, The Deadly Companion, The Getaway, Junior Bonner, The Killer Elite, Convoy, Major Dundee, The Osterman Weekend, Pat Garrett and Billy the Kid, Ride the High Country, and the unforgettable Straw Dogs, works that feature performances by such stars as Steve McQueen, Maureen O'Hara, Dustin Hoffman, Charlton Heston, Ali McGraw, Joel McCrea, Randolph Scott, Bob Dylan, James Coburn, Robert Preston, Ida Lupino, Kris Kristofferson, Warren Oates, Jason Robards, Susan George, James Caan, and Robert Duvall.