CinéSalon: THE FLESH OF THE ORCHID (LA CHAIR DE L'ORCHIDÉE) (Patrice Chéreau, 1975)
French Institute Alliance Française, Florence Gould Hall
55 East 59th St. between Madison & Park Aves.
Tuesday, January 26, $14, 4:00 & 7:30
Series continues Tuesdays through February 23
212-355-6100
www.fiaf.org

French stage and opera director Patrice Chéreau made an offbeat choice for his debut film, deciding to adapt British thriller writer James Hadley Chase's The Flesh of the Orchid, the 1948 sequel to his first novel, 1939's No Orchids for Miss Blandish, which had been made into a 1948 film by St. John Legh Clowes considered to be one of the worst movies ever. So it's little surprise that The Flesh of the Orchid is a dark and gloomy, not wholly successful, both tantalizing and frustrating tale of lust and greed. Following up her controversial role in Liliana Cavani's The Night Porter, the exquisite Charlotte Rampling stars as Claire, a mentally unbalanced heiress who has a penchant for blinding men who attempt to have sex with her. But she takes an odd liking to Louis Delage (Bruno Cremer), a man with financial problems who is on the run after witnessing a murder committed by a pair of cold-blooded killers, brothers Gyula and Joszef Berekian (Hans Christian Blech and François Simon). Meanwhile, Claire's aunt, the elegant, très chic Madame Wegener (Edwige Feuillère), and her ne'er-do-well son, Arnaud (Rémy Germain), are hot on her trail as well, determined to lock her away again so they can get their hands on the family money.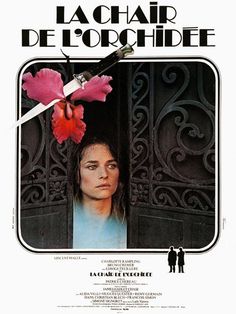 Adapted by Chereau and Oscar-winning screenwriter and novelist Jean-Claude Carrière (Heureux Anniversaire, Belle de Jour), The Flesh of the Orchid is a peculiar, dreary mystery that is made palatable by Rampling's mesmerizing performance, her dark, penetrating eyes offering an intriguing counterpoint to what her character likes to do to men's faces, and Pierre Lhomme's César-nominated cinematography, which uses water as a major theme and incorporates clever shots of windows and mirrors to heighten psychological tension. The back story involving Oscar winner Simone Signoret (Les diaboliques, Room at the Top) is never fully realized, while a cameo by Alida Valli (The Third Man, The Paradine Case) is simply baffling, unless it's a strange reference to Georges Franju's 1960 horror classic Eyes without a Face, in which Valli plays an assistant to a doctor trying to rebuild his daughter's face after a terrible accident. And yes, that is Mr. Slugworth himself, Günter Meisner, as Madame Wegener's trusted right-hand man. Chereau would go on to make such films as Queen Margot, Intimacy, and Persécution before passing away in 2013 at the age of sixty-eight. The Flesh of the Orchid is screening at Florence Gould Hall on January 26 at 4:00 and 7:30 in FIAF's CinéSalon series "Lhomme Behind the Camera," a tribute to the eighty-five-year-old award-winning French cinematographer who shot more than sixty films, working with such directors as Joris Ivens, William Klein, Jean-Pierre Melville, Robert Bresson, Jean Eustache, Benoît Jacquot, Marguerite Duras, Dusan Makavejev, Claude Miller, and Claude Berri. The 7:30 show will be introduced by documentary director and cinematographer Frédéric Tcheng (Dior and I, Diana Vreeland: The Eye Has to Travel). The series continues through February 23 with such other Lhomme-lensed films as James Ivory's Maurice, which will be followed by a Q&A with Lhomme and Ivory; Alain Cavalier's Le Combat dans l'île; Chris Marker and Lhomme's Le Joli Mai; and Jean-Paul Rappenau's Cyrano de Bergerac.