BRING ME THE HEAD OF ALFREDO GARCIA (Sam Peckinpah, 1974)
Nitehawk Cinema
136 Metropolitan Ave. between Berry St. & Wythe Ave.
Thursday, September 10, 9:30
718-384-3980
www.nitehawkcinema.com

Predictably, one of my freshman-year film classes featured weekly screenings of such all-time classics as Citizen Kane, The Godfather, and The Searchers. But when the professor assigned topics for our two papers that semester, he chose a pair of works he considered underrated, overlooked masterpieces. One was Nicholas Ray's Bigger Than Life, in which James Mason plays a teacher overcome by a prescription drug addiction. The other was Sam Peckinpah's Mexican cult favorite, the awesomely titled Bring Me the Head of Alfredo Garcia, which Williamsburg's Nitehawk Cinema is presenting September 10 as part of its ongoing "One Nite Only" and "The Deuce" series. Befitting this crazy film, the evening promises prizes and surprises, a beer-infused after-party, and music by DJ Bones. Following his bitter experience with MGM over Pat Garrett and Billy the Kid, California native Peckinpah headed south to shoot a very strange tequila Western about an American loser making one last stab for love and wealth. Longtime sideman Warren Oates, who had previously appeared in Peckinpah's Ride the High Country, Major Dundee, and The Wild Bunch, gets one of his only lead roles as Bennie, a down-on-his-luck former army officer now running a third-rate Mexico City bar and playing "Guantanamera" over and over again on the piano for tips. He is approached by a pair of dapper gentlemen, Sappensly (Robert Webber) and Quill (Gig Young), who need his help in locating a man named Alfredo Garcia, offering Bennie ten grand. What Bennie doesn't know is that there is a one-million-dollar bounty on Garcia's head put out by El Jefe (Emilio Fernandez), a warlord whose daughter, Theresa (Janine Maldonado), was knocked up by Garcia, a noted ladies' man. As it turns out, Bennie's girlfriend, a prostitute named Elita (Isela Vega), knows exactly where Garcia, a lover of hers as well, is buried, the recent victim of a fatal car accident. The film then turns into a violent and lurid road movie as Bennie and Elita encounter some extremely shady characters, including a couple of biker rapists (Kris Kristofferson and Donnie Fritts), a pair of locals also after Alfredo's noggin, and Garcia's family. All Bennie wants is to make some fast cash so he can take Elita away from all of this abject madness, but it's not going to be nearly as easy as he expected, and a whole lot bloodier.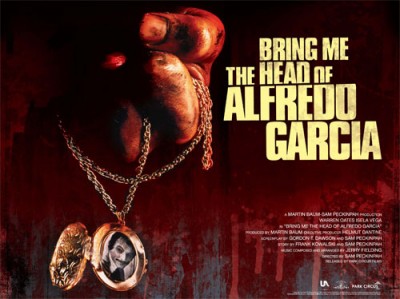 Bring Me the Head of Alfredo Garcia is an absolutely unforgettable film, featuring an absolutely unforgettable performance by Oates (Two-Lane Blacktop, Stripes), who is spectacularly seedy as Bennie, whether professing his love for Elita, trying to act suave in front of professional hit men, removing crabs from his genitals, or talking nonsense to a disembodied cranium. At one moment he is ever-so-cool, while the next he is a sweaty, pathetic derelict who just can't catch a break. But you can't help but love the poor schlemiel, even after he makes mistake after mistake. Garcia also has a decidedly feminist edge, depicting exceptional inner strength from Theresa and Elita. Peckinpah received total control over the film, with no studio people involved, and it shows, as he takes it places no suited executive would ever allow. "Hollywood no longer exists. It's past history," Peckinpah told Variety in October 1973 after having several films significantly cut and reedited by studios. "I've decided to stay in Mexico because I believe I can make my pictures with greater freedom here." Peckinpah, who was battling the bottle at the time, also takes a shot at himself in the film when Bennie says, "You ought to be drunk in Fresno, California. This place is a palace." The auteur, who made only fourteen feature films in his career — he got his start directing television series in the 1950s and '60s, from Gunsmoke and The Rifleman to Zane Grey Theater and The Westerner — was born in Fresno in 1925; he died in Inglewood, California, in 1984 at the age of fifty-nine. Kentucky native Oates died in Los Angeles two years earlier at the age of fifty-three. But they each left behind quite a legacy, including this small gem, a bizarre, unusual, very dark and creepy Western that really, at its immense heart, is just a tender little tale of love and redemption.