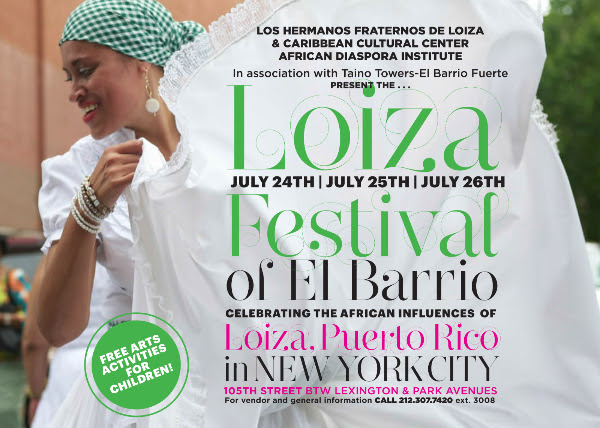 THE FESTIVAL OF SANTIAGO APOSTOL
105th St. between Park & Lexington Aves.
July 24-26, free
www.facebook.com
The annual celebration of James the Greater, known as the Loiza Festival del Barrio and the Festival of Santiago Apostol, takes place this weekend on East 105th St., three days that focus on the African influence of the Puerto Rican community of Loíza on New York City with live entertainment, family-friendly activities, a religious processional, and a tribute to those affected by the March 2014 gas explosion on 116th St. On Friday, Taino Towers Day: El Barrio Fuerte . . . !Basta Ya! features art workshops, storytelling, children's games, and music by 5 en Plena and salsa music and dance from Swing y Sabor. On Saturday, there will be a special installation of La Casita/La'Kay (with Adrian "Viajero" Roman, Manny Vega, Sophia Dawson, David Zayas, and Damaris Cruz) and live music by DJ Geko Jones, the Palladium Mambo All Stars, !BOMBA YO!, Johnny Olivo & Herencia de Plena, Jose Mangual & Son Boricua, and !Retumba! On Sunday, the processional kicks off at 12:30 at Iglesia Catolica de la Santa Agonía, with Frankie Vasquez as Padrino and Olga Rosa as La Madrina, followed by live performances by Danza Fiesta, Legacy Women, Milteri Tucker y Bombazo Dance Company, Tipica 73, Evelyn Jimenez y Orgullo Taino, and the Family Affair Mambo Dance team.