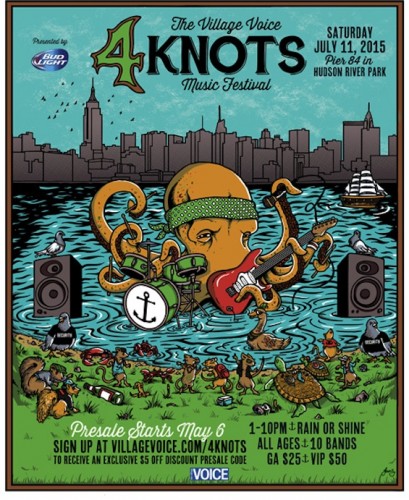 Who: Mikal Cronin, Twin Peaks, Happyness, Meatbodies, and Heaters, with five more bands to be announced
What: Fifth annual Village Voice 4Knots Music Festival
Where: Pier 84, Hudson River Park, West 44th St. at 12th Ave.
When: Saturday, July 11, general admission $25, VIP $50, tickets on sale Saturday, May 9, 10:00 am (save $5 now with presale code 4KNOTSPR here,) 1:00 - 10:00
Why: The Village Voice's annual summer presentation of outdoor music goes through another change this year, with some rather significant differences. From 2001 to 2010, the free Siren Music Festival took place on Coney Island, where fans rushed between two stages to catch up-and-coming bands as well as established indie legends. In 2011, Siren became 4Knots, a free show on two stages at the South Street Seaport, with VIP privileges on board the Peking. But for 2015, 4Knots is moving to Pier 84 in Hudson River Park — and it's no longer free. General admission is $25, while VIP tickets are $50 (including three free drinks and free snacks and access to the VIP viewing area, rest rooms, and private bar and lounge). Tickets go on sale May 9 at 10:00 am, although you can save five bucks right now with the presale code 4KNOTSPR.