April 23-25, New York Live Arts, 219 West 19th St., 212-691-6500, $15-$30, 7:30
April 24-26, multiple locations, free with preregistration
newyorklivearts.org
www.catalystdance.com
In our 2011 twi-ny talk with Emily Johnson, the Alaska-born, Minneapolis-based choreographer, performer, and director said, "I want the feeling of 'home' to lead to a kind of intimacy so that people feel comfortable, responsible even, for it. I think we tend to look at things as static when, in reality, our bodies and places house past, present, and future, at once. It's anything but static." The concluding piece of the trilogy Johnson was referring to, which began with The Thank-you Bar and continued with Niicugni, is happening this week: Shore is a multiday four-part work that brings together people and the land, performer and audience, art and community, celebrating the interdependence of all living things and emphasizing our responsibility to the planet and one another. (It seems particularly fitting that Johnson and her Catalyst company are here in New York during Earth Week.) Shore began on April 19 with a volunteer community action program in the Rockaways, helping restore dunes, as well as a curated reading with Ben Weaver, Sahar Muradi, Chris Moore, Emmanuel Iduma, Tim Carrier, and Live Linesat at the Two Bridges Neighborhood Council on Rutgers Slip. On April 24, Emily Johnson/Catalyst, Gibney Dance, the Lenape Center, and the Billion Oyster Project will team up for another community action volunteer initiative, restoring an estuary on Governors Island to reintroduce oysters (and eat some as well).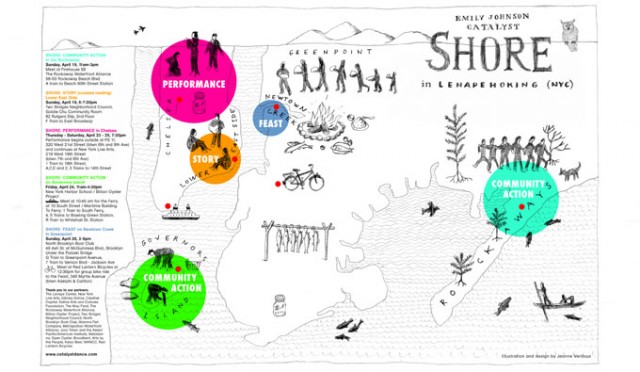 On April 23-25, the performance aspect of Shore will begin on the outdoor basketball court at PS 11 on West Twenty-First St. and make its way into New York Live Arts; the piece is conceived, choreographed, and written by Johnson, with direction by Ain Gordon, music direction and lead collaboration by James Everest (who composed the soundscore with Nona Marie Invie and Fletcher Barnhill), costumes by Angie Vo, and a cast that includes Johnson, Invie, Barnhill, Aretha Aoki, Krista Langberg, Christina Courtin, Julia Bither, the Shore Choir, and twenty local dancers. The Thank-you Bar and Niicugni were both unusual, unpredictable works that challenged traditional relationships between performer and audience while making creative use of light, sound, and space, so we're expecting this piece to be rather unique and special as well. Shore comes to a close April 26 with a potluck feast at the North Brooklyn Boat Club, where preregistered participants will bring dishes and stories to share, listen to live music by Weaver, go on a guided canoe trip on Newtown Creek under the Pulaski Bridge, and learn about ecology and the environment. Bicyclists can meet up earlier and ride over to the feast together. Another part of Shore, which was previously presented last June in Minneapolis, are essays that are being posted on the Catalyst website. "At each event, our attention was redirected back to the earth, to our relationship with the land, with plants and animals, with water and air," writes Diane Wilson. "I imagined Shore as a place where all of these elements were brought back together in harmony with people, just as they were when our ancestors used the ceremony of art to convey our relationship with the natural world. On the podium set up on the grass, Emily asked, 'What was the most joyful day of my life? It just might be today.'" Shore should be another memorable performance from a dazzlingly gifted talent.