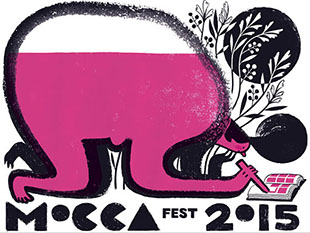 Who: Guests of honor Aline Kominsky-Crumb, Scott McCloud, and Raina Telgemeier, international special guests Pénélope Bagieu, DoubleBob, Annie Goetzinger, Ilan Manouach, Anne-Françoise Rouche, and Barbara Stok, and many other comic artists
What: Society of Illustrators: MoCCA Arts Festival
Where: Center 548, 548 West 22nd St. between Tenth & Eleventh Aves., and the High Line Hotel, 180 Tenth Ave. at Twentieth St.
When: Saturday, April 11, and Sunday, April 12, $5, 11:00 am - 6:00 pm
Why: More than 350 publishers and artists will be exhibiting at the annual MoCCA Fest at Center 548, including Nick Bertozzi, C. M. Duffy, Fantagraphics, Dean Haspiel, Keren Katz, Peter Kuper, Liz Means, NBM, Greg Ruth, and Daniel Zender. Among the special programs (advance RSVP recommended), taking place at the nearby High Line Hotel, are Q&As with Scott McCloud, Aline Kominsky-Crumb, and Raina Telgemeier and such panel discussions as "Work in Progress" with Kim Deitch, Sarah Glidden, Dash Shaw, and Julia Wertz, moderated by Richard Gehr; "Alt-Weekly Comics" with Ben Katchor, Michael Kupperman, and Mark Newgarden, moderated by Bill Kartalopoulos; and "Saul Steinberg 101" with Austin English, Françoise Mouly, Joel Smith, and Patterson Sims.