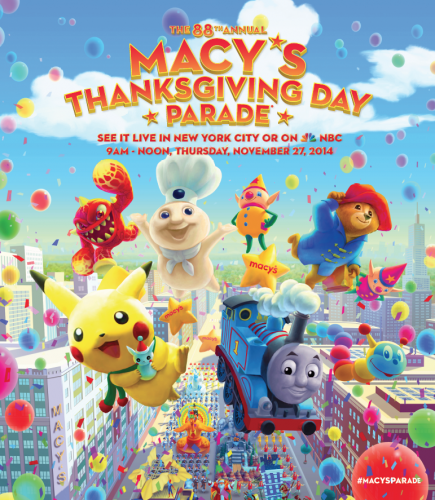 77th St. & Central Park West to 34th St. & Seventh Ave.
Giant Balloon Inflation: Wednesday, November 26, free, 3:00 - 10:00 pm
Parade: Thursday, November 27, free, 9:00 am - 12 noon
212-494-4495
www.macys.com
In 1924, a bunch of Macy's employees joined forces and held the first Macy's Christmas Parade, as it was then known. This year Macy's celebrates the eighty-seventh edition of this beloved American event. (For those of you going crazy trying to figure out how 1924 to 2014 makes 88, the parade was canceled from 1942 through 1944 because of World War II.) The 2014 lineup features sixteen giant balloons, including Hello Kitty, Diary of a Wimpy Kid, the Pillsbury Doughboy, Spider-Man, Pikachu, the Elf on the Shelf, Toothless, Eruptor, Finn & Jake, and Snoopy & Woodstock; twenty-seven floats, among them Treasure Hunt, the Beauty of Beijing, Cirque du Soleil's the Dreamseeker, the Enchanting World of Lindt Chocolate, Teenage Mutant Ninja Turtles, Domino Sugar's Stirrin' Up Sweet Sensations, Pepperidge Farms' Goldfish on Parade, Winter Wonderland in Central Park, the NHL's Frozen Fall Fun, and Mount Rushmore's American Pride; a dozen novelty balloons, from Wiggleworm, Red Candy Cane, and Pumpkins to Virginia, Baseball, and Beach Ball Clusters; and three balloonicles, highlighted by the AFLAC Duck, all making their way down Sixth Ave. from Central Park South to Herald Square. (However, heavy wind conditions could ground many of them.) The myriad clowns and marching bands will be joined by such performers as Renée Fleming, Idina Menzel, Cole Swindell, Nick Jonas, Meghan Trainor, Hilary Duff, the New Orleans Baby Doll Ladies, the Harlem Globetrotters, and KISS, headed by ringleader Amy Kule.
To get a start on the parade, head on over to Central Park West and Columbus Ave. between 77th & 81st Sts. the day before, November 26, from approximately 3:00 to 10:00 to check out the Giant Balloon Inflation. Watching the annual big blow-up of Thanksgiving Day Parade balloons is a growing tradition, with crowds getting bigger and bigger every year, but it's still a thrill to see the giant characters raised from the ground, reborn every Thanksgiving to march in a parade viewed by millions and millions of people around the world. (For further information, you can get the official parade app here.)