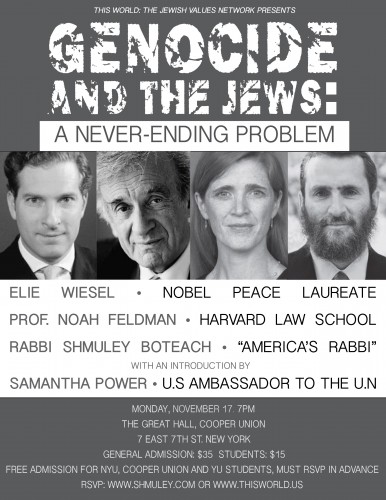 The Great Hall of the Cooper Union
7 East Seventh St. at Third Ave.
Monday, November 17, $25, 7:00
www.thisworld.us
www.cooper.edu
College campuses have been a hotbed of activity in the ongoing battle between the Israelis and the Palestinians. On September 22, Palestinian president Mahmoud Abbas gave a speech in the Great Hall of the Cooper Union, discussing his June meeting with Shimon Peres and Pope Francis in the Vatican, explaining, "I prayed that Israel will finally, after a long wait, live next to Palestine as a good neighbor and not as an occupier. So we Palestinians can continue to build our institutions for a modern and open state and society." (You can watch the speech here.) Three days later, Abbas spoke at the UN and demanded that Israel pay for what he called "war crimes carried out before the eyes of the world." In response to those speeches, Rabbi Shmuley Boteach is hosting "Genocide and the Jews: A Never-Ending Problem" in the historic Great Hall on November 17, bringing together Nobel Peace laureate and Holocaust survivor Elie Wiesel and Harvard Law School professor Noah Feldman to provide an alternate view to Abbas's. "Three days before he went before the UN and accused Israel of genocide against the Palestinians, Abbas spoke at Cooper Union's Great Hall to a crowd comprised mostly of NYU students," Rabbi Boteach writes on his website. "Many gave him a standing ovation as he repeated his blood libel about the Jewish state. And this in a university with more than 8,000 Jewish students. Only one protest was staged outside the building on the night. It was organized by my son Mendy, an NYU undergraduate, who wisely focused on the positive message of the American values of democracy, racial harmony, and freedom of expression and how Abbas contravenes all three." The discussion will be introduced by U.S. Ambassador to the UN Samantha Power, whose Pulitzer Prize-winning book, A Problem from Hell: America and the Age of Genocide, inspired Edet Belzberg's 2014 documentary Watchers of the Sky, which details the efforts of Raphael Lemkin, the coiner of the word "genocide," to make mass killings a crime against humanity recognized by the world court. "When genocide is trivialized it is not just the six million of the Holocaust who suffer," Rabbi Boteach continued. "It is the 1.5 million Armenians slaughtered by the Turks. It is the 2.5 million Cambodians murdered by the Khmer Rouge. It is the 800,000 Tutsis slaughtered by the Hutu. And it is all the innocent victims in Croatia, Serbia, and Kosovo." It should be very interesting to see what kind of protests there might be outside the Cooper Union for this program.