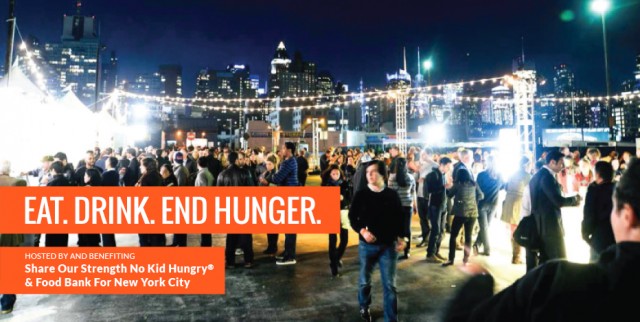 NYCWFF
Multiple locations
Tickets go on sale Monday, June 23, at midnight
Festival runs October 16-19, $20-$300
www.nycwff.org
Tickets go on sale to the general public for the feeding frenzy that is the New York City Wine & Food Festival on Monday, June 23, at midnight, and you better not wait if you want to get in to the coolest culinary events, which sell out extremely quickly. (In fact, the American Express presale has resulted in six sold-out programs already.) For four days, dozens of chefs and food celebrities will be serving special meals and mingling with gourmands at seminars, classes, late-night parties, intimate dinners, walk-around tastings, and demonstrations. Below are ten highlights from the more than one hundred events, which range in price from $20 to $300.
Wednesday, October 15
Le Cirque 40th Anniversary Dinner, hosted by Sirio Maccioni, with courses by David Bouley, Daniel Boulud, Jacques Torres, and Raphael François and wine-pairing discussion with Christophe Salin, Le Cirque, $300, 7:00
Thursday, October 16
Bank of America Dinner Series: Beyond the Butcher Block, hosted by Pat LaFrieda, with Rich Torrisi and Mario Carbone, Noir, $250 (includes copy of LaFrieda's Meat: Everything You Need to Know), 7:00
Cooking Channel Presents Chicken Coupe, hosted by Whoopi Goldberg, the Loeb Boathouse, Central Park, $200, 7:00
Friday, October 17
Hot Dog Happy Hour, with Mo Rocca, the Standard Biergarten, $150, 5:00
Dominique Ansel's Wonderland, dessert buffet with Dominique Ansel, Richard Capizzi, Stephen Collucci, Benjamin Grué, Lauren Resler, Ghaya Oliveira, Miroslav Uskokovic, and Zac Young, the Refectory at the High Line Hotel, $125, 10:00 pm
Saturday, October 18
New York Sideline Pass: Jets + Chefs, the Ultimate Tailgate, hosted by Joe Namath and Mario Batali, with food by Mario Batali, Lucas Billheimer, Jean-Paul Bourgeois, Josh Bowen, Emile Castillo, Gabriel Cruz, Ratha Chaupoly, Ben Daitz, Sylvain Delpique, Joe Dobias, Simon Glenn, Will Horowitz, Michael Lomonaco, Lolo Manso, Julian Medina, Danny Mena, Myron Mixon, Tracy Obolsky, Erin O'Shea, Natasha Pogrebinsky, Erik Ramierz, Joel Reiss, Anthony Ricco, Mark Rosati, Adam Schop, and Thiago Silva, and special appearance by the New York Jets Flight Crew, Pier 92, 52nd St. & the West Side Highway, $120-$220, 11:30 am
The Lobster Place Presents Oyster Bash, hosted by Tyler Florence, with Ed Brown, Michael Cressotti, Tyler Florence, Hung Huynh, Jehangir Mehta, Seamus Mullen, Ben Pollinger, Ron Rosselli, and David Seigal, the Standard Biergarten, $150, 12 noon
TimesTalk: Alain Ducasse, Daniel Boulud, and Eric Ripert, moderated by Sam Sifton, the TimesCenter, $35, 2:00
Sunday, October 19
Down-Home Country Brunch, hosted by Trisha Yearwood, with Richard Brown, Darrell Darwood, Lev Gewirtzman, Elizabeth Karmel, Kyle Knall, Damian Laverty-McDowell, Damaris Phillips, and Melba Wilson, New York Hilton Midtown, $150, 12 noon
Dale's Dim Sum Party, with Justin Bazdarich, Leah Cohen, Daniel Holzman, Yang Huang, Hung Huynh, Chris Jaeckle, Joel Javier, Brian Ray, Ralph Scamardella, Daniel Skurnick, Dale Talde, and Jason Wang, Buddakan, $115, 2:00