Cort Theatre
138 West 48th St. between Sixth & Seventh Aves.
Tuesday - Sunday through July 14, $27 - $142
www.crippleofinishmaan.com
Daniel Radcliffe continues to show his range and distance himself from Harry Potter — if that's really possible — in the Broadway premiere of Martin McDonagh's splendid little comedy The Cripple of Inishmaan. Radcliffe, who previously on the Great White Way had a thing for a horse (Equus) and sang and danced his way up the corporate ladder (How to Succeed in Business without Really Trying), stars in McDonagh's 1996 play as Cripple Billy, an unfortunate orphan with a twisted arm and a near-debilitating limp who spends an inordinate amount of his time looking at cows on the close-knit Irish island of Inishmaan. When gossipmonger Johnnypateenmike (Pat Shortt) arrives at Eileen (Gillian Hanna) and Kate's (Ingrid Craigie) food shop with news about Hollywood coming to the nearby island of Inishmore, where Robert Flaherty is filming Man of Aran, Billy instantly wants to go and be part of the movie, seeing it as his opportunity to get away from all the abuse heaped upon him and make something of his life. But first he must convince boat owner Babbybobby (Pádraic Delaney) to take him across the water. Also desperate to get out is tough-talking flirtatious redhead Helen McCormick (Sarah Greene), who is sure she will become a star as soon as Hollywood sets its eyes on her. Of course, nothing goes quite as planned in this bittersweet tale.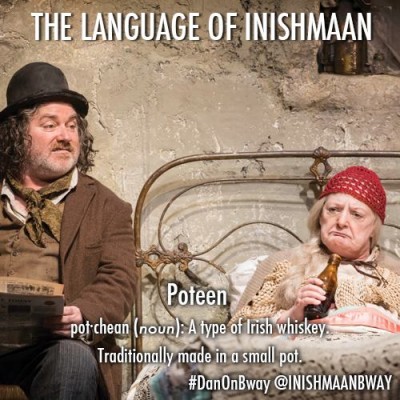 A production of the new Michael Grandage Company led by Tony-winning director Michael Grandage (Frost/Nixon, King Lear), The Cripple of Inishmaan is a wickedly delightful slice of Irish life, complete with eccentric characters, poetic dialogue, and wacky situations that are firmly entrenched in the tradition of Irish storytelling. Hanna and Craigie are a hoot as the aunties who raised Billy after his parents drowned, Shortt is a riot as the town crier who shares news for food and just might be poisoning his alcoholic mother (June Watson), and Conor MacNeill does a fine turn as Bartley McCormick, Helen's brother who is obsessed with sweets and telescopes. Greene is sensational as Helen, fiery and sexy whether insulting others or smashing eggs over their head, nearly stealing the show from Radcliffe, who plays Billy with a heartwarming and endearing sensitivity. At its heart, The Cripple of Inishmaan is about overcoming the obstacles one is born with, rising above setbacks while finding one's place in life, and in a way that applies to Radcliffe's career as well. At intermission, the security guards start putting up the barricades as fans already begin lining up at the stage door, preparing to wait another hour and a half to get his autograph and snap his picture; it would be a shame if they do so without actually having seen The Cripple of Inishmaan, which will have many saying, "Harry who?"