VIOLENT SATURDAY (Richard Fleischer, 1955)
Anthology Film Archives
32 Second Ave. at Second St.
Saturday, March 8, 9:00, and Thursday, March 13, 7:00
Series runs March 7-17
212-505-5181
www.anthologyfilmarchives.org

It's been a half dozen years since the Film Society of Lincoln Center paid tribute to director Richard Fleischer with a Spotlight at its annual Film Comment Selects series (including screenings of 10 Rillington Place and Mandingo) and Film Forum presented a brand-new 35mm print of Fleischer's 1955 CinemaScope noir flick Violent Saturday for a special one-week run. So it's time for another look at the Brooklyn-born director who also made such diverse films as Doctor Dolittle, Fantastic Voyage, Compulsion, and Soylent Green (as well as The Jazz Singer remake with Neil Diamond and Amityville 3-D) and whose father was Max Fleischer and uncle was Dave Fleischer, the two men behind the early Popeye and Betty Boop movies. Critics Nick Pinkerton and Nicolas Rapold of Overdue have joined forces with Anthology Film Archives for an eleven-day festival of nine of Fleischer's lesser-known works that show off his wide range.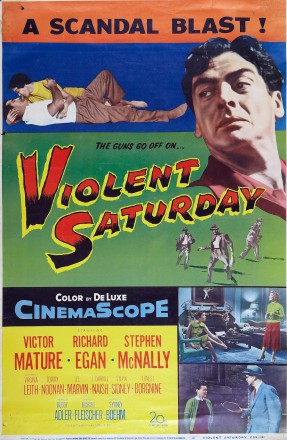 On March 8 and 13, the 35mm print of Violent Saturday will be screened; "Fleischer, an ace with the long frame," Pinkerton wrote in his 2008 Village Voice review, "composes scrolling studies in horizontality, grabbing one of the most ravishing train shots in cinema." All is not as it seems in the small town of Bradenville, Arizona. The mousy librarian (Sylvia Sidney) is stealing to pay off her debts, the married bank manager (Tommy Noonan) walks his dog late at night so he can peep on a hot-to-trot single woman (Virginia Leth), the mine boss's son (Richard Egan) is a drunk who suspects his ritzy wife (Margaret Hayes) of cheating on him with a country-club playboy (Brad Dexter), an Amish family (led by Ernest Borgnine!) that lives nearby tries to keep to themselves, and a young boy (Billy Chapin) is embarrassed that his father (Victor Mature) worked in the copper mines instead of becoming a war hero like his best friend's dad. But when three bank robbers (Stephen McNally, J. Carrol Naish, and Lee Marvin, puffing on an inhaler like Frank Booth in Blue Velvet) come to town to rid the safe of all its cash, all hell soon breaks loose and things do indeed get rather violent. In Violent Saturday, Fleischer reveals the subtle underbelly of a postwar America undergoing radical change while still standing by its old values, at least on the surface. And it's great seeing Borgnine and Marvin together, in lovely CinemaScope; twelve years later they would reunite for Robert Aldrich's classic WWII flick, The Dirty Dozen. "Overdue: Richard Fleischer" runs March 7-17 and also includes Trapped, Armed Car Robbery, Barabbas, See No Evil, The New Centurions, Conan the Destroyer, The Girl in the Red Velvet Swing, and 20,000 Leagues under the Sea.