ELECTRIC SIX
Bowery Ballroom
6 Delancey St. between Bowery & Christie St.
Sunday, September 29, $18-$20, 9:00
212-533-2111
www.electricsix.com
www.boweryballroom.com
For nearly fifteen years, unpredictable Detroit band Electric Six has been having a blast, playing wild and crazy live shows and releasing such intoxicating albums as Danger! High Voltage, Señor Smoke, the splendidly titled I Shall Exterminate Everything Around Me That Restricts Me From Being the Master, and Heartbeats and Brainwaves. Although they've gone through numerous personnel changes, Tyler Spencer, aka Dick Valentine, has always been front and center, the group's primary songwriter and lead vocalist. On their new record, the galloping Mustang (Metropolis, October 8), Valentine, guitarists Da Ve and Johnny Na$hinal, bassist Smorgasbord, drummer Percussion World, and keyboardist Tait Nucleus? take listeners on a rollicking journey through multiple genres, from the opening blast of "Nom de Plume" to the yearning ballad "Iron Dragon" to the Nick Cave/Roxy Music-like finale, "Cheryl vs. Darryl." Electric Six brought its "Save the World, Save the World" tour to the Bell House this past Wednesday and will next be at Bowery Ballroom on September 29 with My Jerusalem and Les Sans Culottes. While in town, Valentine discussed with twi-ny the new record, Adam Levine, and the misspelling on the cover of Mustang.
twi-ny: Mustang explodes out of the speakers in a burst of heavy metal, punk, funk, hard rock, prog rock, black metal, disco, dance pop, and other styles. What is your songwriting process like? Do you set out to tackle specific genres in advance?
Dick Valentine: We just knew that having just done a synth and drum machine record for our previous studio release, we wanted to have a lot of guitars on this album. And live drums on every track. I have to say of all the albums we've done, this was the one where I came with the least amount of concrete ideas and finished songs on my end, so the rest of the guys, especially John Nash, really stepped up and got it done.
twi-ny: On "Adam Levine," you tell the Maroon 5 frontman and "The Voice" coach to "burn in hell, motherfucker"; tell us, how do you really feel about him? Are personalities like Adam Levine good or bad for the music industry?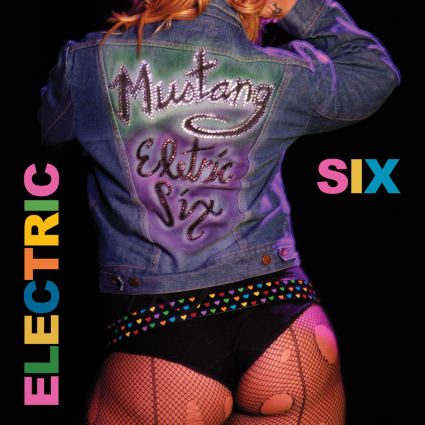 Dick Valentine: This song is not actually about Adam Levine. . . . That's a popular misconception. It's about feeling awful and then feeling worse because you know it will just continue. I've never met him, but he seems like a fine example of a human being. A human being who grew up in Beverly Hills. As far as his impact on the music industry, you'd have to ask Donny Osmond because that's where this shit started.
twi-ny: In the past, you've said that your songs are "about absolutely nothing," so should we not read any political metaphors into "Late Night Obama Food," especially when you say, "We are starving, but we're eating more than we ever did before"?
Dick Valentine: Yeah, that's right.
twi-ny: Going back to "I Buy the Drugs" for a moment, what actually happens if you send a self-addressed stamped envelope to P.O. Box 900, Los Angeles, CA 90212?
Dick Valentine: I have heard it has something to do with FOX broadcasting. That was not intentional, but that makes sense as I believe that ZIP Code does in fact cover Century City and Westwood.
twi-ny: In "Gimme the Eyes," you say, "When you come to New York see what your money buys." You played the Bell House on September 25 and will be at Bowery Ballroom on September 29; what do you spend your money on when you're here in the city?
Dick Valentine: Diapers. In a Park Slope parent way, not in a David Vitter way.
twi-ny: We can't let you go without asking about the cover of Mustang; what was your initial reaction when you saw that the band's name was misspelled on the back of the woman's jean jacket?
Dick Valentine: We were elated.